Interview by Jana Hoops. Special to the Clarion-Ledger Sunday print edition (December 10)
Mississippi natives Robert St. John and Wyatt Waters have teamed up once again to create yet another "coffee table cookbook" worthy of the attention of good cooks and art admirers far beyond the boundaries of their home state.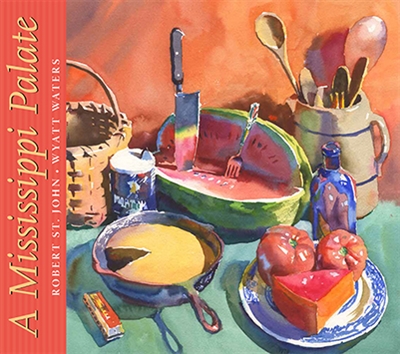 In A Mississippi Palate: Heritage Cuisine and Watercolors of Home, St. John and Waters serve up another full plate of exceptional recipes and watercolor scenes–and this time it's all about the Magnolia State. Included are 105 recipes and 66 watercolors, all representing the Delta and Hill Country, the Central Region, and south to the Gulf Coast.
A syndicated weekly food columnist, St. John has authored 10 books (three with Waters) and is the owner of four noted eateries in his hometown of Hattiesburg. He has been named the state's top chef three consecutive years and has been honored with the title of Mississippi Restauranteur of the Year.
Waters grew up in Florence, began art lessons as a first-grader, and is now widely recognized for his "Southern culture" watercolors and plein air paintings. He has received the Mississippi Institute of Arts and Letters Award for Art, the Mississippi Library Association Special Award for Art and the Mississippi Arts Commission Governor's Award for Excellence in Arts. In addition to his collaborations with St. John, he has released five other books, and his work has been featured in numerous regional and national publications. Today, he lives in Clinton, where he owns an art gallery.
How did you two meet and begin creating books together?
St. John: It all started as a suggestion by one of our restaurant customers. She had been bugging me for months about writing a cookbook. I had no interest in writing a book, but she persisted. One day, she was sitting in the restaurant with a man and called me over to the table. She said, "Robert, this is so-and-so with so-and-so publishing company. Tell him about your cookbook."
I had no cookbook, and, seriously, had never ever thought about doing a cookbook before that moment. So, trying to think quickly on my feet, I said, "If I were to do a cookbook, I would have recipes I have developed here at the restaurant over the years, stories like in my newspaper column about the South, growing up in the South, and food in the South, and watercolors by Wyatt Waters."
Without missing a beat, the publisher said, "Well, if you get Wyatt Waters, you've got a deal." The problem was that I didn't know Wyatt. I was a big fan of his work and the two books he had released at that time. So, the next day, I hopped in my car, drove to Clinton to his gallery, introduced myself, and told him that I had an idea for a book that would be like a coffee table cookbook, and a publisher willing to publish it. We hit it off, and here we are.
Waters: Robert and his wife Jill came to my gallery. He had this idea for a book that used stories, food, and heart to describe Southern culture. The idea intrigued me. I went to visit and meet with him further at his restaurant in Hattiesburg. I was impressed at how everything was done in an excellent way. Robert relates everything to food. I knew he was someone I wanted to work with and know better. Right before we met, my father had a stroke, and during the work on the book, he passed away. Putting the book together was a bonding experience, and I knew this was someone who would be a friend for life. I think Robert invented the coffee table cookbook genre. Most of the time, I don't know if we're working or just having a good time.
Tell me about the collaboration process.
St. John: This is our fourth collaboration. The process for each one has been different. When we worked together on our first book, A Southern Palate, we had just met each other. We had a lot in common–musical interests, family backgrounds, childhood memories, and the like–but we were two guys without a work history.
Today, we are best friends who have been collaborating for over 17 years. It's way, way better. I love collaborative projects. There is a point where you reach when you're working in a type of shorthand and a lot goes unsaid and unspoken. It's familiar in a good way.
We have a blast hanging out with each other and working together. We have driven all over Mississippi for years, with the radio turned up way too loud, and we still encounter people, places, and things we have never seen before.
Waters: First of all, Robert has what I would call generosity of spirit. It's not always clear whose idea it is. The project always take more importance than who came up with it. Another thing that helps is that i don't pretend to know the food part. Robert has been a very good guide in that world.
The word most associated with artist is "starving." Not something I have to worry about with Robert. When we get together and talk about ideas, I frequently grab a pencil and an envelope or a napkin and draw out ideas. When we are making final decisions about the book, another thing we do is spread out all of the paintings in consideration and begin culling the ones we don't think fit. We also try to figure out what gaps need to be filled. There are several versions before we land on a final draft. It's mostly based on intuition.
A Mississippi Palate is your fourth book together, but it's your first that is strictly about Mississippi. Tell me how you approached this book.
St. John: In all of my–and our–other books, I have known going in what the structure would be like and how the recipes would be listed by chapter. I didn't know on this project until we got into the recipe-testing phase of the thing. I wanted to have heritage recipes that reminded me of my childhood, but I also wanted up-to-date preparations. Ultimately, I chose things that were "Mississippi to me." I'm happy with the end result.
Waters: This was like the most difficult of all art forms: the self-portrait. You never really can say exactly who you are. The best you can do is say at that moment what you believe you see. I've tried to be honest with my eyes and honest with my heart. This is the most personal of the books we have done together.
What is life like when you're on the road for a book tour?
St. John: I love going to book signings and speaking events. I get to meet people who have read my newspaper column for almost two decades who remember stuff about my family and me that I had forgotten years ago.
But what I really enjoy is hanging out with my best friend. I drive. He rides. We listen to a lot of music. There's a lot of me laughing at Wyatt. He cracks me up. He is one of the most clever and witty people I've ever known. I speak in "quantity," he speaks in "quality."
Waters: Music. Yes, lots of music. After we finished putting the book together, we went to Muscle Shoals and hung out with musicians Mac MacAnally and Norbert Putnam. I didn't paint, and Robert didn't cook. But we had a really good time. We cut up and goofed around.
There are some people who we only know from the book tours. They tell us what they've been doing since the last time we saw them. It's a sort of a distant family member that you can't exactly remember the name of.
Tell me about your new TV show, Palate to Palatte, on Mississippi Public Broadcasting. What can viewers expect, and what do you like most about doing it?
St. John: Palate to Palette  has been a blast. It has been well-received–actually, way better than we could have ever imagined. Our friend Anthony Thaxton wears many hats, and is the director/editor/goat wrangler. It's Wyatt and me having fun, eating too much, listening to music too loud. He's painting. I'm cooking and eating, we are visiting off-the-beaten-path places and unique people. I think people are going to enjoy it, but there's no way anyone will have as much fun watching it as we have had during the filming (in Mississippi and northern Italy).
Someone asked me what the TV show was about the other day, and I said, "It's really kind of cheating, because it's the same thing we've been doing for the past 17 years, except now we have cameras with us."
Waters: The idea is for people to see what we do when we are working together. After a few minutes, we forget the cameras are there. WE're just being ourselves and it's very unscripted. Anthony Thaxton is the videographer and edits this into a story. Anthony is an old student of mine and an excellent painter himself.
Do you have another book or project that you're eyeing now?
St. John: I'll be opening four new restaurants in the next two years. Wyatt and I have a couple of projects we have been talking about. This TV thing has a lot of possibilities. We will definitely keep taking people to Europe on food/art tours, and we have talked about a potential New Orleans book sometime in the future. I have no interest in slowing down anytime soon. In a way, we're just getting started.
Waters: We've already done a lot more than I though I would ever do. Yes, the tours and TV shows are good to do and I like the ideas of a New Orleans book very much. New Orleans is close enough to where we have a lot of experience and feel its influence.
Anything else you'd like to include here?
St. John: One of the unexpected joys that has come with being a Mississippi writer is getting to know the independent bookstore owners throughout the South, and especially in Mississippi. They are on the front lines of a very challenging business model these days. We do everything we can to support them. We are their biggest cheerleaders, but it's a two-way street. They've been there for us over the years, too.
Waters: We are both sons of Mississippi, so we're kind of like brothers. It's a real honor to work on something that we believe in as much as these projects we do. All the things that I've done all my life feel like preparation for where I am right now. I want to tell those future sons and daughters of Mississippi that they can do more than they think they can. You can live your dream and you can do it in a place you love around people you love.
Robert St. John and Wyatt Waters will be at Lemuria signing copies of A Mississippi Palate on Saturday, December 16 at 11:00 a.m.