Interview by Jana Hoops. Special to the Clarion-Ledger Sunday print edition (February 11)
The recent opening of two of Mississippi's premier museums, coinciding with the state's Bicentennial celebration in December 2017, was a landmark event in the Magnolia State's recognition of and salute to its history.
Like all states, Mississippi's past includes not only its memories and accomplishments but its challenges and struggles, as well–along with a bright hope for its future. And, fortunately for those who want to actually bring home an insightful reminder of their experiences while visiting the new Museum of Mississippi History and the Mississippi Civil Right Museum in downtown Jackson–there's a book for that!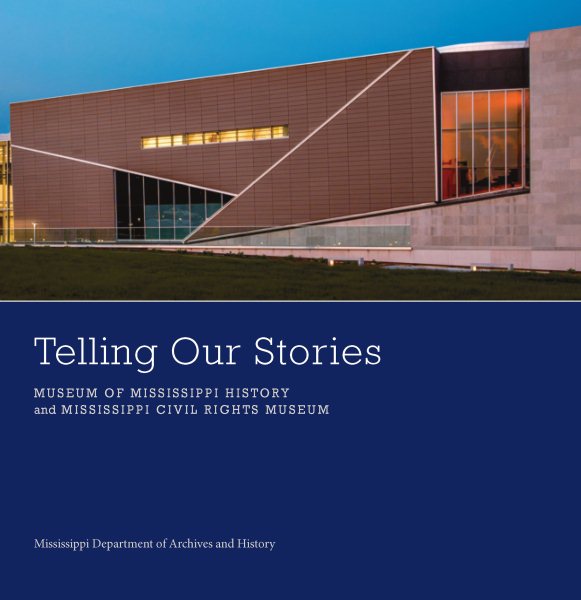 The University Press of Mississippi, working with the Mississippi Department of Archives and History, have published Telling Our Stories, a comprehensive "companion book" that highlights the people, places and dates of events (the good and the bad) that are emphasized in the museums and have shaped our culture today
Three MDAH staff members who are serving in vital roles in the museums and have been instrumental in the publication of Telling Our Stories share their thoughts below on the role that the museums and this book will play in Mississippi's journey to a vibrant future.
AMANDA LYONS
Amanda Lyons is assistant to the MDAH director and served as managing editor of Telling Our Stories. Originally from Louisiana, she graduated from Belhaven College with a Bachelor of Arts degree in history and now lives in Jackson.
How did the Telling Our Stories book project come about, and why? What is the overall purpose of this book?
We approached University Press of Mississippi about publishing a companion book to the museums a few years ago. They loved the concept! Telling Our Stories celebrates the opening of the museums on the occasion of our state's bicentennial. It's also a beautiful souvenir for our visitors and is available in the Mississippi Museum Store.
In the introduction to the book, civil rights leader Myrlie Evers and former Mississippi Gov. William F. Winter remind us that "No state has more stories to tell than we do." How does this book, and the museums, reflect that sentiment?
Mississippi is full of storytellers. The book and the museums draw on this rich tradition with quotes, oral histories, and primary sources. As much as possible, we wanted each person to tell their own story, in their own words. We also encourage visitors to record their own story before they leave.
The writers of the book's foreword, former Gov. Haley Barbour and former attorney and judge Reuben V. Anderson, describe the museums as "the largest classrooms in the state," and they reflect positively on the statewide impact they will have in Mississippi and beyond. What do you expect that impact to be?    
School buses filled with children pull up at the museums every day! We want every child in Mississippi to visit the museums at least once during their K–12 years, and we are raising funds for an endowment for school visits. People of all ages will learn more about where they come from–and where they are going–at the museums. One man was amazed to see his grandfather, a civil rights activist, featured in the exhibits. Here, we can discover new facets about ourselves and how our stories fit into the complex tapestry that is Mississippi.
PAMELA JUNIOR
Pamela Junior is director of the Mississippi Civil Rights Museum. A resident of Jackson, she is a graduate of Jackson State University with a degree in education.
Mississippi's civil rights story has been long and complicated. While it may have a way to go, much progress has been made. How does the museum reflect that story, and what do you think (or hope) remains to be accomplished in Mississippi on the civil rights front?
The stories of the Civil Rights Era are complex, but Mississippi has done something that people thought couldn't be done. Mississippi has reconciled its differences by making sure that all content in this museum is truthful!
What I know will happen is conversation–conversation about race relations. What I hope for is that people will be honest enough to share their inner thoughts, to tell the truth and face the problems regarding race so that we can get to the next level of making Mississippi the best it can be. Right now, we have done the spectacular, and that is building the civil rights museum in Mississippi–ground zero during the Movement.
Could you share an overview of the contents of the museum (its layout, major exhibits, etc.)? What have been some of the most popular displays?
The Museum is laid out chronologically and forms a circle that can be approached from either side.
There are eight galleries in total. The first, "Mississippi's Freedom Struggle," gives the history of Africans coming here through slavery and includes the Civil War. Gallery two covers Reconstruction and explores the flowering of African American communities and the passage of Jim Crow Laws. This gallery also contains the first of the monoliths that appear throughout the museum and lists the names of all the people known to have been lynched in Mississippi.
"This Little Light of Mine" is a large central space to stop, reflect on what you've seen, and to rest as the music of the Civil Rights Movement plays. An interactive sculpture hangs from the ceiling surrounded by pictures of the heroic women and men of the Movement.
The "Closed Society" gallery highlights the return of African American soldiers from World War II, the "separate but equal" doctrine, and the murder of Emmett Till. "A Tremor in the Iceberg" tells of the young people joining the Movement and the assassination of Medgar Evers. The "I Question America" gallery focuses on the work of Fannie Lou Hamer, Bob Moses, Aaron Henry, Ed King, and others, and contains an original film on the murders of James Chaney, Andrew Goodman, and Mickey Schwerner.
"Black Empowerment" tells the story of the marches, sit-ins, and other protests that were continuing, changes in public education, and the murder of Vernon Dahmer. The final gallery–"Where do We Go from Here?"–examines the election of African Americans to political office across the state and gives visitors a chance to reflect on the courage of the many people who died for a cause greater cause than themselves–and what they might do to make things better today.
Why is this museum and its message so important to Mississippi?
Our message is of hope and racial healing. Out state has some of the greatest people and the greatest minds. We must put our heads together and fight the demon of racism. We have more in common than we have differences.
RACHEL MYERS
Rachel Myers, director of the Museum of Mississippi History, has lived in Jackson for 10 years. She earned her Bachelor of Arts degree in religious studies from Brandeis University and her Master of Arts in museum studies from Johns Hopkins.
The opening of these museums came as Mississippi marked its bicentennial–a history that the Museum of Mississippi History and this book examine through, among other things, our state's role in conflicts and wars, survival during the Great Depression, its economic swings, racial strife and progress, and its accomplishments in sports, music, storytelling, writing, crafts, and the arts. How does the Museum of Mississippi History play an important role, as historian Dennis Mitchell puts it, in "sharing our stories, clearing away myths, and inspiring and children and grandchildren'?
Our role is to inspire the exploration and appreciation of our state's history by presenting an honest representation of Mississippi. Visitors will find stories that resonate with their experiences, but we hope they'll also find new and surprising ways of looking at our state and its many stories.
This museum is a place that elicits stories. I've enjoyed watching families reflecting on the history of their communities and sharing stories passed down over generations. The experience of seeing an artifact or a film or standing in a recreated historic site can facilitate conversations that strengthen our identity and challenge perspectives.
Some students find it hard to engage with lessons about history. What would you say are some of the exhibits/displays at the museum that may win them over? Are there some things that patrons may be surprised to see?
With four original films, dozens of digital interactives and immersive scenes, and more than 1,600 artifacts, the museum is designed to capture the attention of a wide range of visitors.
Students have been excited to walk through time and peek into the different living spaces of Mississippians throughout history, investigate their artifacts, and hear their stories. Visitors are often surprised by the size and scale of this museum, the amount of history we are presenting, and the range of voices that are highlighted and uplifted in the exhibits.
The book tells us that Mississippi's story has evolved as history has recorded the presence of its first native peoples, followed by Europeans, Africans, and later people from Germany, Russia, Poland, Slavonia, Italy, Lebanon, China, and others. How do we see the impact and the accomplishments of such diversity of our people reflected in our state today?
To me, the story of Mississippi is one of the most fascinating in our country. We see here on the local scale our national themes of people from different groups and places coming together to form something greater than themselves.
Our theme of One Mississippi, Many Stories celebrates all those who have shaped and defined our state–and continue to do so today.
The hours and admission for the Mississippi Civil Rights Museum can be found here. The hours and admission for the Museum of Mississippi History can be found here. Telling Our Stories can be purchased at the museums' store, or from Lemuria Books and its online store.