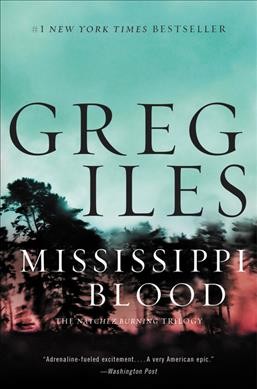 Greg Iles is set to publish his final chapter in the Natchez Burning trilogy tomorrow. The trilogy, which began with Natchez Burning in 2014 and continued with The Bone Tree in 2015, will conclude with Mississippi Blood. The whole trilogy is set in the Natchez, Mississippi, of long-running Iles protagonist Penn Cage, who first appeared in The Quiet Game in 1999. (The trilogy also features appearances from characters in the previously stand-alone and unrelated thriller Dead Sleep from 2001).
I personally first encountered the character of Penn Cage about four years ago on the pages of his second novel, Turning Angel. Penn became the latest in my personal parade of literary types that I treasure: the non-professional private eye. He followed Lawrence Block's book-loving burglar Bernie Rhodenbarr, John D. MacDonald's legendary beach-bum Travis McGee, and Rick Riordan's now-forgotten tequila-drinking, tai chi-practicing English professor Tres Navarre.  But Penn hit closer to home, quite literally. At the time, I was working just over the Mississippi River and a little north of Natchez, in Tensas (pronounced Ten-SAW) Parish in Louisiana.
And that's the thing about these characters: they inevitably become inseparable from their settings. Penn lives and breathes Natchez like its sins and successes are wholly his burden to bear. 
It the middle of Turning Angel, he makes a pitch for his out-of-town fiancée to stay while he makes a run for mayor of Natchez: "Natchez has become a place where we have to raise our children to live elsewhere. Our kids can't come back here and make a living. And that's a tragedy…I want to change that." And those words resonate because what's true for Natchez is essentially true for all of Mississippi.
And this is what has always been at stake for Penn. Since moving home from Houston after the death of his wife, Penn has striven to make a idyllic home life for his daughter Annie, much like the one that his father, Dr. Thomas Cage, had given to him when he was a boy. For the first three books of the series (The Quiet Game, Turning Angel, The Devil's Punchbowl), Dr. Cage is made out to be a veritable saint, completely devoid of the prejudice that plagues the Natchez community all around him, giving freely his time, medical expertise, and perhaps most importantly, his respect to the surrounding black community.
The façade starts to crumble at the beginning of the first book of this trilogy, Natchez Burning. Dr. Cage is charged with the recent murder of his trusted black nurse from the 1960s, Viola Turner. Her death quickly becomes enmeshed with the murderous activities of a white supremacist terror cell, the Double Eagles, and their drug-running descendants. (The real-life inspiration for the Double Eagles, known as the Silver Dollar Group, is chronicled brilliantly in Stanley Nelson's harrowing true-life book Devils Walking: Klan Murders Along the Mississippi in the 1960s).
In telling Viola's story (and Dr. Cage's, and Natchez's), Natchez Burning (and its sequel The Bone Tree) go to some wild places, such as post-Katrina reconstruction in New Orleans and the murder of John F. Kennedy in Dallas, of all things. 
Truly menacing villains such as Brody Royal, the money man behind the Klan, and Forrest Knox, the heir apparent to all law enforcement in Louisiana and simultaneously the head of the family crime syndicate, dominate the first two books, but are dispatched. By the telling of Mississippi Blood, only Snake Knox (Forrest's uncle), the man with the meanest of goals—survival and notoriety—and the meanest of dispositions, survives to torment Penn and the good people left standing in Natchez.
Mississippi Blood moves at a slightly less frenetic pace than its predecessors (it would almost have to), but it simmers with the same tension. We—and the courtroom spectators of Natchez—are finally promised answers about Dr. Cage's activities that have been lingering for years. Also lurking at the edges of Penn's conscience and consciousness at all times is his half-brother Lincoln Turner, the illegitimate son of Dr. Thomas Cage and Viola Turner. Lincoln may be Penn's antagonist, but he's not exactly a villain, even from Penn's point-of-view. Lincoln is seeking reparation for the disparity of his and Penn's life in a way that Penn finds almost impossible to pay. Penn has even turned ambivalent about his father's liberty, blaming him for a tragedy at the end of The Bone Tree, which was truly shocking and heart-rending in a way that is only possible for readers like me after hundreds of pages and dozens of hours spent with the same people.
But, above all, Penn is trying to hold down a peace for family, facing down a dark past before even thinking about a brighter future, determined to see it all the way down to the end. Because while the "Mississippi Blood" of the title may be evocative of all the violence that has taken place in the trilogy, it ultimately refers to the survival instinct of those who possess it running through their veins.
Greg Iles will be at Lemuria on Tuesday, March 21. He will begin signing books at 3:00 and read from Mississippi Blood at 5:30.