By DeMatt Harkins. Special to the Clarion-Ledger Sunday print edition (October 15)
No matter how well one may know Mississippi, more layers, subcultures, and haunts appear. They prove endlessly fascinating from a historical, literary, culinary, or musical perspective. In her first book, Live from the Mississippi Delta (University Press of Mississippi), photographer Panny Flautt Mayfield shares her snapshots encapsulating all of these in the greater Clarksdale area.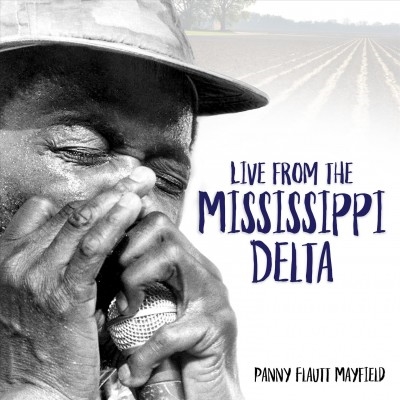 While the Coahoma County seat may not be a booming metropolis, the camera-wielding Mayfield frequently found herself in the right place at the right time, during culturally significant events and times over the past 30 years. Her casual stream-of-consciousness photo journal lets the reader in on the energy, with the perspective only a local could provide.
Clarksdale functions as one of the more important blues towns in a state filled with many. Famous native sons include John Lee Hooker, Son House, Ike Turner, and Sam Cooke.And Muddy Waters, W.C. Handy, and Robert Johnson lived there as well. On those shoulders stands a world-renowned musical legacy that supports an enduring local music scene and pilgrimage destination.
This is what Mayfield documents. She exhibits the role Clarksdale and surrounding radius palys in blues past and present–intertwining people, events, and locations, decades and miles apart.
Two excellent sources of material prove to be the town's Sunflower Blues Festival and King Biscuit Blues Festival in neighboring Helena, Arkansas. Mayfield's tome displays excellent shots of stalwarts Bobby Bland, Albert King, Little Milton, Denise LaSalle, Jessie Mae Hemphill, Charlie Musselwhite, Otis Rush, Koko Taylor, Pinetop Perkins, Junior Kimbrough, and Honeyboy Edwards–each pictured in the throes of performance.
But Mayfield has also witnessed another level of visitor to the vicinity. She covered John Fogerty and Pop Staples attending Charley Patton's headstone dedication in Holly Ridge. When famed Smithsonian archivist Alan Lomax returned to Clarksdale after years and years, Mayfield captured him sitting down to hear a picker. She was also on hand for sitting President Clinton's walking tour of downtown Clarksdale. ZZ Top invited the national press to Mississippi. They were kicking off a million-dollar campaign for the Delta Blues Museum. Guess who was front and center?
Perhaps most stunning of all is Mayfield's friendship with Robert Plant. The Led Zeppelin frontman's academic fascination with blues music has manifested in a series of trips to Clarksdale. Throughout the book, Plant pops up, letting the golden locks hang low in practical anonymity. His rapport with Mayfield eventually landed her at his band's 2007 London reunion concert, depicted in the concert film Celebration Day.
While undeniably interesting, global luminaries are not the appeal of Live from the Mississippi Delta. As Mayfield demonstrates, the magic is in the local mainstays. As the first black disk jockey in Mississippi, Early Wright's Soul Man Show on WROX–replete with impromptu ads and PSAs–endeared listeners for decades. When he wasn't opening NAACP chapters across the state, WAde Walton cut multiple generation's hair. Mrs. Z L Hill ran the Henderson Hotel boarding house for 53 years and even hosted John F. Kennedy. The after-school blues students of Johnnie Billington flew to Washington, D.C. to play at the White House.
However, Mayfield provides more neon than neoclassical. She places the reader in the middle of Clarksdale's finest music venues. From the dance floor, one can observe the likes of The Jellyroll Kings, Super Chikan, or Bilbo Walker playing Smitty's Red Top Lounge, Margaret's Blue Diamond, or the Bobo Grocery. And as the photos make clear, the stars of the evening are not always on stage.
In Live from the Mississippi Delta, Mayfield serves as her own acoustiguide. Sometimes the narrative explains the picture, other times the photo illustrates a point. Regardless she delivers an engaging look into multidimensional Clarksdale and the pleasure it holds.
DeMatt Harkins of Jackson enjoys flipping pancakes and records with his wife and daughter.
Panny Flautt Mayfield will be Lemuria on Wednesday, November 1, at 5:00 to promote her book, Live from the Mississippi Delta.