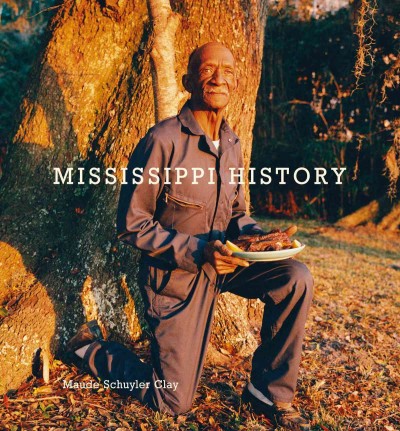 Maude Schuyler Clay has a new photography book. On a whim, I decided to flip through its pages because I do love a good coffee table book. Looking at these photos, I felt goose bumps; as someone who appreciates art, and the intricacies that are often involved in the history of art, this collection of photographs feels both intimate and timeless. And as there has been a bent and focus on the Delta recently (Richard Grant's Dispatches of Pluto, an incredible outsider's view of Mississippi), the sense of place in these photos counterbalanced Grant's book and is clearly an insider's view of Mississippi.
At first, I did not know that these people, or subjects of the photographs, were Clay's own family and friends. But every time I would see a character's name appear in a different photograph, in a different time, in a different location, I felt a jolt of recognition, a connection with that person who I had also seen several pages back.
What I love about this collection is that it is not chronological. Pictures of her children at twelve appear before pictures of her children when they are toddlers. And because of this repetition, the people in these photographs aren't just subjects, but characters, part of a story. Clay could have easily called this book "My Mississippi History." But it wouldn't have retained the same mysteriousness; it was only after reading the closing words at the end of the book that I learned these people were her own children and family—after all, there are pictures of them in the bathtub, and on Christmas morning. Where else would the photographer be on Christmas morning than at home with her family?
The ambiguity with which the photographs are arranged and presented allows the viewers to place themselves in that moment, to recognize a piece of themselves in Mississippi History. The photographs were taken over the past three decades, so I also loved guessing when the photographs were shot. Some are clearly recent; "Mr. Biggers" has Apple earbuds in his ears as he stands with fresh greens in his hand. Some are unmistakably from the 70s. My favorite picture is of "Anna as Heidi." All of the photographs are gorgeously artistic and intimate. The majority of these photos are of children, especially Clay's own children in different stages of their lives, so the photographs have a very evident "mother's eye-view" in them, a look at what a real Mississippi mother truly sees.
Today, anyone can take a picture on Instagram, put a fancy filter on it and call themselves a "photographer." Clay shows that she is a genius in the art of photography, and has been using light and shadows in nature to create those illusive filters we place on photographs today.
Flipping through the pages of Mississippi History feels like flipping through a good friend's photo album. It is the perfect gift for that person who loves to take pictures of their children, and also perfect for anyone who has grown up here in the Magnolia State.
Join us on Thursday, December 17 at 5:00 for a signing event for Mississippi History!