In celebration of the release of John Grisham's Camino Island, whose plot revolves around stolen F. Scott Fitzgerald manuscripts, Lisa has been tracing Fitzgerald's career through his novels. You can read last week's examination of This Side of Paradise here.
The Beautiful and Damned by F. Scott Fitzgerald. New York, NY: Scribner's, First Edition, 1922.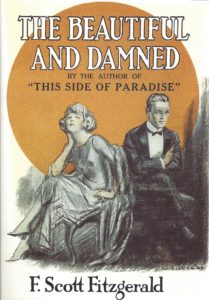 After the great success of his first novel, This Side of Paradise, F. Scott Fitzgerald enjoyed positive reviews for The Beautiful and Damned. Many critics of the time felt that the writer had matured from the episodic style of Paradiseto a novel with a strong omniscient narrator. The oddest review, however, came from his wife, Zelda, in the New York Tribune under the title "Friend Husband's Latest." She wittily encouraged readers to buy her husband's book because there was an expensive dress and platinum ring she longed for. She also admitted that she had allowed her husband to incorporate pieces of her writing into the novel: "One one page I recognized a portion of an old diary of mine which mysteriously disappeared…[it] seems that plagiarism begins at home."
The Beautiful and Damned is a thinly veiled look at Fitzgerald's marriage to Zelda. He admitted that he could not stop writing about his domestic life and count not bring himself to change their excessive alcoholic and spending habits. At one point after the publication of The Beautiful and Damned, the Fitzgeralds were living off $36,000 a year, which was 20 times that of the average American.
Maxwell Perkins, Fitzgerald's agent and confidant, was a reader of his manuscripts. Unlike some of Fitzgerald's other readers, Perkins provided constructive criticism on the structure and content of the writing. Unfortunately, he was a terrible speller and copy editor. Apparently, there was no solution to this, and first printings of all the novels and story collections are noted for copious grammatical, spelling, and factual errors. At a speed that pleased his pocket book, Fitzgerald dashed off stories for magazine publication as well. From 1919 to 1929, he increased his earnings from $30 a story to $4000 a story. From 1921 to 1922, The Beautiful and Damned was also serialized in the Metropolitan magazine in an edited form before hitting bookshelves on March 4, 1922.
As the years passed, Fitzgerald continued his excessive lifestyle. (He was known to display hundred dollar bills in his vest pockets at parties.) A moment of clarity emerged out of the chaos: "I've realized how much I've–well, almost deteriorated in three years since the publication of The Beautiful and Damned…If I'd spent as much time reading or travelling or doing anything–even staying healthy–it'd be different but i spent it uselessly, neither in study nor in contemplation but only in drinking and raising hell generally."
What followed the tragic Beautiful and Damned was The Great Gatsby, a work that did not realize its full success that did not realize its full success until after Fitzgerald's death at the age of 44. Unexpectedly, it also was the book that changed the way publishers marketed their books.