When I first started working at Lemuria, The Nightingale by Kristin Hannah was all the rage. Reader after reader was coming in asking for a copy either for themselves or, if they had already read it, for a friend. I quickly learned where her books were located in the store and because I hadn't read her before, how to hand sell them. Which got me interested….So, when I heard that she was writing another book, I grabbed an advance copy to get a head start on the reading rush…and I'm really glad I did!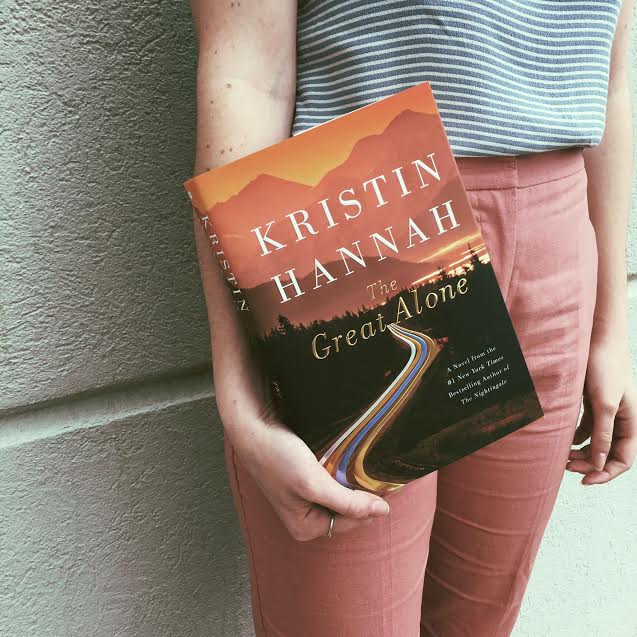 Kristin Hannah's The Great Alone is a powerful, compelling story of survival — survival both of the natural elements and of the human spirit. The year is 1974, and 13-year-old Leni Allbright is not your average teenager. She lives with her devoted mother, Cora, and her abusive father, Ernt, who was a prisoner of war during Vietnam and has never been the same since.
Not only has Ernt changed, but America is changing after the war as well, and Ernt thinks their best chance at a fresh start is to move off the grid, to America's last frontier—Alaska. The family leaves everything behind to start over on their own, away from the government and hopefully away from Ernt's abusive past.
The Allbrights quickly learn that Alaska is a harsh place to live, in summer or in winter. Wild animals are abundant, the elements are unforgiving, and people aren't always on your side.
Leni is one of a handful of kids that live in the small Alaskan town they move to. She begins to learn what it is like to work for food, comfort, and well being. She makes a friend who becomes her lifeline, and begins to settle into their new life with hope. Leni and her mother Cora finally feel that they have truly started fresh and can move on as a family.
Grizzlies, wolves, and dropping temperatures are the worries outside of the family's cabin, but as Ernt's battle with his demons rages on, it's no safer inside.
Kristin Hannah has pulled together mental illness, survival, love, abuse and family in The Great Alone. The result is a beautifully descriptive, heart-wrenching adventure.
Signed first editions of The Great Alone are still available at Lemuria.