Let me start out by saying that I love historical fiction set in Europe, like, a lot. I love historical fiction for all ages, as well. It is one of my favorite genres, so when I saw this book in a box full of Young Adult advance reader copies, I HAD to read it. And it did not disappoint. Finally, it is out in hardback and I can tell you all about the story that made me laugh, swoon, and cry, all in one beautifully bound novel.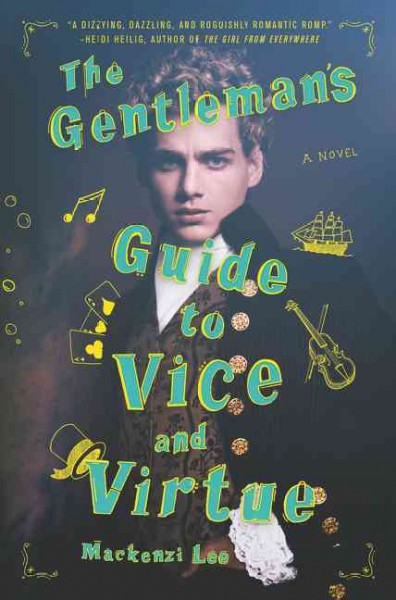 In The Gentleman's Guide to Vice and Virtue, Mackenzi Lee's fabulous adventure novel set in the eighteenth century, two best friends set out on their European tour. Monty, son of a lord, and his best friend Percy are accompanied by Monty's sister Felicity, and, much to Monty's dismay, a chaperone. Their chaperone is there to make sure Monty and Percy stay out of trouble, which could include drinking too much, gambling, and Monty sticking his foot in his mouth. Despite this, Monty, Percy, and Felicity continue to find themselves in a multitude of tight spots. To top it all off, Monty harbors a massive crush for Percy; feelings which he is unsure would be reciprocated by his (mostly) rule-following best friend.
Their journey begins in France with an ill-fated night at Versailles, where we witness the theft of an object very valuable to the Duke of Bourbon, Monty getting caught in the Duke's quarters with a girl in a very compromising position, and their embarrassing departure. After that, the inexperienced trio, having lost their chaperone, travel alone through multiple countries on a secret mission (I don't want to give away the biggest plot twist in the book, so that's all I'll say about that). As their Grand Tour derails in the most spectacular fashion, they encounter marauders, pirates, and gypsies, who will either help them or try to kill them. Hilarity ensues.
To tell you all the truth, I was so enraptured with this book, loved it so much, that I reread most of it before I started writing this blog. Mackenzi Lee is a master of historical fiction that includes a hybrid language: a mix of historically-accurate speech and speech that teens can relate to. Monty, Percy, and Felicity are a perfectly orchestrated team. Somehow, they find themselves getting out of every bad situation imaginable to a group of teens, with only a few scrapes and bruises.
If you're like me and enjoy European tales of adventure, with a few mishaps along the way (and just a touch of romance), then you're going to love this book.