Hello, my name is Dorian. And I am addicted to literary fiction that delves into the complexity of the human experience.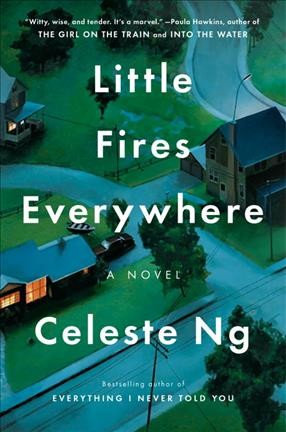 Little Fires Everywhere by Celeste Ng continues my binge on all things well-conceived and thoughtfully written. Whether on my couch, in my bedroom, or sitting at the park, reading this book reminded me of the power of perspective, understanding the intersectionality of being, and how we weigh our own experiences against someone else's. I'd love to give you some lame pun about smoke and fire, but I'm not Katniss Everdeen and this isn't Dante's Inferno. It's a story of two disparate families bound by two scandals in late 90s Shaker Heights, Ohio.
The novel opens with the Richardson family home destroyed by fire. Elena Richardson (mostly referred to in the book as Mrs. Richardson) considers how her "perfect" life has literally gone up in flames as she and her family watch firefighters extinguish the last of the little fires everywhere. Only someone is missing. Resident trouble maker Izzy, who is believed to have started the fire, can't be found. Neither can the unwed artist Mia and her daughter Pearl, who have rented a small home from the Richardsons. The story continues to unfold with how the two shake up the comfortable life of a conventional family. When Mrs. Richardson interviews nomadic Mia for the rental, she is immediately beguiled by Mia and her daughter's bond and simultaneously intrigued by people so unlike her. The Richardson teenagers, particularly Izzy, and Pearl practically swap families as these two units become engulfed in each other's separate existences. Mrs. Richardson's idyllic world is flipped on its head when a portrait of Mia is found in the local art museum and Mia isn't too keen to share. Then, a young Chinese immigrant (and friend of Mia's) fights to get her baby back from a white couple (Richardson family friends), which swallows the town in debate, and provides a grand opportunity for Mrs. Richardson to dig into Mia's past. Whew! That's a lot going on for a little hamlet in middle America.
The strength of Ng's work is her ability to compose a kind of literary music out of the most ordinary things in ordinary life, from Mrs. Richardson's first encounter with Mia and Pearl to the opening paragraph with Richardson home set ablaze. These aren't just mere occurrences but intricately woven commentaries on the romanticization of motherhood and the false permanence of the American Dream. Ng presents all this with balanced weight of lyricism, wit, and a dash of melancholy, making for a recipe that is just right. While the differing perspectives were sometimes overcrowded, this gem is a compelling examination of mothers' relationships with their children, their relationships with other mothers, and their vast cultural and class experiences.
Now if you'll excuse me, I'm going to go sit in a broom closet, think about my life, and contemplate my next fix.
Signed first editions of Little Fires Everywhere are still available in Lemuria's online store.