Lemuria is excited to welcome Katherine Rundell to Jackson, Mississippi on Friday, September 29th. Rundell's books are modern classics: the moment you begin reading them, you are transported into the story she is telling.
Her first novel, Rooftoppers, is the story of a girl who is rescued from a sinking ship, and she is found floating in a cello case. Many years later (with her adopted father), they set out on a search for her mother that leads them to the rooftops of Paris where a community of children run free during the night. Fans of Brian Selznick's The Invention of Hugo Cabret will enjoy Rooftoppers.
Cartwheeling in Thunderstorms is a Boston Globe Horn Book Award Winner, and is a modern day retelling of A Little Princess. When Wilhelmina Silver is left an orphan, she is sent away from the wild African savanna she's grown up loving to a cold boarding school in London where she is mercilessly teased by the other girls. She runs away, and must find a way to live on the streets of London.
Rundell's third novel, a snowy tale with hints of Little Red Riding Hood folklore, is Wolf Wilder. Wolf Wilder is about a girl named Feo and her mother who are "wolf wilders." That is, they train wolves to survive the wild after they are no longer wanted as pets by the nobles in St. Petersburg, Russia. When Feo's mother is taken captive by the Tsar, it is up to Feo (and her wolves) to save her. Each of Rundell's stories is unique, heartwarming, and exciting. Her characters are larger than life, and she truly understands the way children interact with the world.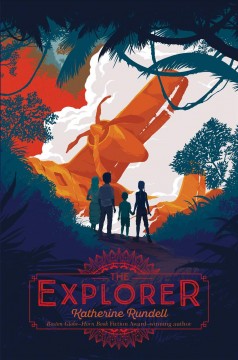 In her newest novel, THE EXPLORER, four children ride a small plane to Manaus, Brazil. When the plane goes down in flames, the four children, Fred, Con, Lila, and Max survive the crash, but they must survive the Amazon Jungle as well. Between poisonous plants, giant bugs, and biting fish, will they make it to civilization again?
Rundell, who is a Fellow at All Souls College, Oxford, grew up in Zimbabwe, Brussels, and Belgium. Her love of travel is infused within the places she writes about in her books. After visiting the Amazon Jungle, Rundell was compelled to write THE EXPLORER. She says that her inspiration to write THE EXPLORER was to write a story "about children performing acts of extraordinary courage against all odds" and that she wants "to encourage children to be an explorer, no matter where [they] are."
Meet Katherine Rundell, all the way from England, on Friday, September 29th, from 5:00 – 6:00 p.m. at Lemuria Bookstore. Call to reserve a signed copy of THE EXPLORER today! 601.366.7619