By Jim Ewing. Special to the Clarion-Ledger Sunday print edition (August 27)
Fans of Oxford novelist Ace Atkins will savor the butt-kickin' return of protagonist Quinn Colson as sheriff in The Fallen (G.P. Putnam).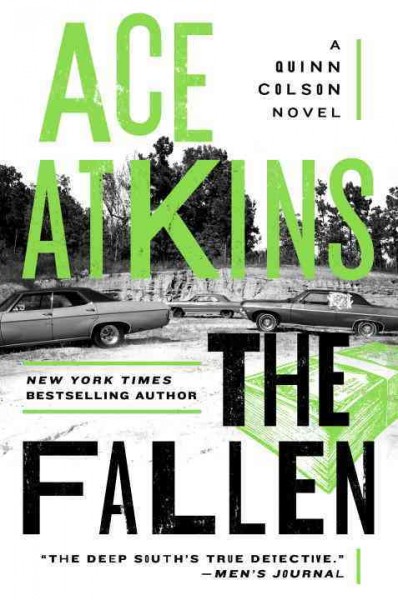 All the familiar denizens of the fictional town of Jericho, Mississippi, (faintly like the Oxford we all know, perhaps stripped to its roots) are there–if not in person, then in memory.
Loyal, tough-as-nails, and sharpshooter deputy Lillie Virgil is there–but for how long? The loyal one-armed mechanic, Boom, is there; this time, sleuthing out the mystery of two missing teens as the behest of Colson's sister, Caddy, behind the sheriff's back.
His Elvis-worshipping momma Jean is there, still dishing out heaping helpings of Southern food and sound advice.
The major clash is a trio of ex-Marines who, having returned from war, want excitement, cash, and blood through heists while brandishing weapons and wearing Donald Trump masks (complete with R-rated quotes from the president while robbing banks).
In many ways, book 7 in the Colson series is like many of the others: Colson, a former U.S. Army Ranger, enjoys tooling around in a big pickup (the Green Machine), smoking cigars (now Drew Estate Undercrowns over his previously preferred La Gloria Cubana), and finding himself in binds caused by the local good ol' boy power structure while dealing with deadly scofflaws.
His love life is still hopelessly conflicted , with the rekindled romance of his high school sweetheart now a hurtful memory, the fling with the coroner Ophelia Bundren cut short after she threw a steak knife at him, and the continuing unresolved tension with Virgil.
But there's a new woman in town, Maggie Powers, who it turns out, used to run with Colson when they were kids.
She's grown up nicely–but has conflicts and dangers of her own.
This time around, there's a new owner of the strip club/rent-by-the-hour motel on the interstate: Fannie, a striking redhead who oozes reserved sensuality, hiding her brutal upbringing with fine cars and clothes, but knows how to hurt and even kill with indifferent calculation.
The old guard–despite the old crime boss Johnny Stagg now in prison–is still quite virulent, though keeping in the shadows. And, in a foreshadowing of Colson books to come, it seems intent on regaining full power, with the help of the Southern mafia from the Coast.
All in all, The Fallen is a worthy contender in the series and the type of fast-paced mystery Atkin's readers have come to expect.
There is one jarring issue that stands out in this book, a plethora of foul language. In previous novels, there was plenty of cussing, and, it's perhaps to be expected among some of the characters, including military types and hardcore criminals. That's easily shrugged off. But The Fallen abounds in profanity, even from children.
Atkins, a master craftsman with 21 novels, including the deftly written Spenser books, seems to have fallen into a trap of substituting cursing for dialogue. And there's no difference in the spewing of it by the various characters, as if all were merely one person speaking out of several mouths. It flattens their texture, destroys any nuance, robs them of their individuality, and (the ultimate sin of the writer) distracts from the narrative.
Jim Ewing, a former writer and editor at The Clarion-Ledger, is the author of seven books including his latest, Redefining Manhood: A Guide for Men and Those Who Love Them.