By Jim Ewing. Special to the Clarion Ledger Sunday print edition (November 27)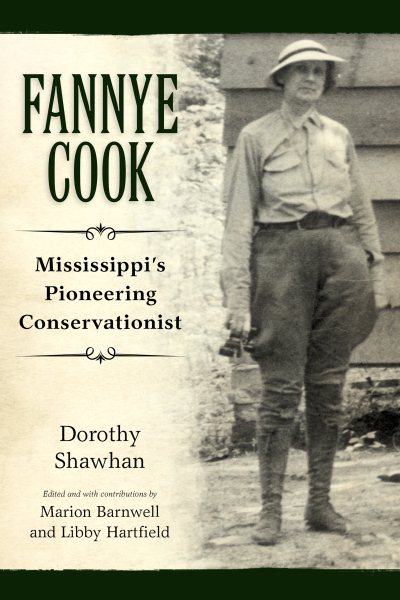 For many outdoors enthusiasts in Mississippi, Dorothy Shawhan's book Fannye Cook might be described as one about the most influential person you never met.
The term "hero" is often overused, but in this case, Cook lives up to the label, as Shawan details.
Approximately 150,000 people (mostly children) annually stream through the Mississippi Museum of Natural Science, says former director Libby Hartfield, who contributed to the book. And that is directly due to Cook, who founded it and served as its director until her retirement in 1958.
Of import to hunters, fisherfolk, birders, conservationists, and others, however, Cook was instrumental in creating what is now the Mississippi Department of Wildlife, Fisheries, and Parks.
Her impact goes even beyond that.
As Shawhan describes, Cook, a graduate of what is now Mississippi University for Women, began her lifelong study and promotion of Mississippi's natural resources in 1926. The wildlife population in Mississippi—including its most popular game species—was threatened by lack of habitat, overhunting, and overfishing.
"The forest resources that had covered 95 percent of the state in 1800 were practically gone by 1930," Shawan reports.
Cook, with the help of the federal Depression-era Works Progress Administration, conducted a comprehensive plant and animal survey in Mississippi that she designed. Traveling across the state speaking to local groups and schools, she spearheaded a successful effort for public education and scientific research of wildlife resources.
The results of her efforts were twofold:
After her pushing for seven years, the state Legislature approved creation of a state game and fish commission in 1932 to regulate and conserve natural resources;
To house the enormous data she amassed, she was instrumental in opening the state's first natural science museum in 1939 for the survey's "28,732 fish, reptiles, birds, plants, amphibians, and mammals collected."
It was an incredible turnaround in the public's appreciation and support for habitat that lives on today.
Subtitled "Mississippi's Pioneering Conservationist," the book delves into the obstacles that stood in Cook's path both personal and professional, as a woman in a "man's" field, as well as her achievements and friendships along the way.
It's full of recognizable names, including author Eudora Welty, with whom she lived as a boarder in Welty's Jackson home, and Aldo Leopold, considered by many the father of wildlife ecology in the United States, with whom she collaborated.
Cook serves as a role model not only for women, but for all who have a dream and are willing to work tirelessly to achieve it.
Cook's work and memory live on with the museum, the state's largest, that now houses more than 1 million scientific specimens, along with creation of the 2,600-acre Fannye Cook Natural Area in Rankin County soon slated to open to the public. It's the brainchild of Wildlife Mississippi, which also helped underwrite this book.
Shawhan, a Delta State University professor, died during course of writing the book and the manuscript was completed by Marion Barnwell, professor emerita at Delta State, and Hartfield. It's a fascinating account of a most extraordinary Mississippian.
Jim Ewing, a former writer and editor at the Clarion-Ledger, is the author of seven books, and serves or has served on numerous state, regional and national boards involving wildlife conservation, forests, agriculture and food.
Marion Barnwell and Libby Hartfield will be at Lemuria to sign and read from Fanny Cooke on Sunday, December 3, at 11:30 a.m.