How long have you worked at Lemuria? About a year, part time.
What do you do at Lemuria? I assist customers, and help organize and shelve books. My section is World History, and I do a bit of design work for Lemuria from time to time.
Talk to us what you're reading right now. A Little Life by Hanya Yanagihara. I'm not even done with it and I know that it has my vote for the National Book Award.
What's currently on your bedside table (book purgatory)? It's not really in purgatory, since I just read it, but it's Genghis Khan by Frank Mclynn .
How many books do you usually read at a time? Never more than 2. To read more makes me finish less.
Favorite authors? Edward Gibbon, Lemony Snicket, Joseph Campbell, and J.R.R. Tolkien.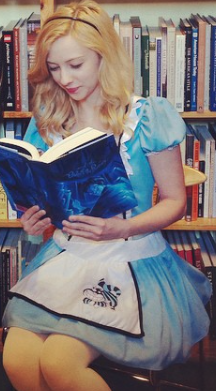 Any particular genre that you're especially in love with? Nonfiction and history especially, because you learn something; and fantasy/fairytales (you can see me as Alice on the left, back when I was blonde).
What did you do before you worked at Lemuria? I was an intern at Fresh Ink (very cute place next to Lemuria)!
If you could share lasagna with any author, dead or alive, who would it be? What would you ask them? Joseph Campbell, because it's rare to read an author you can learn so much from and can show you just how beautiful and interconnected people are. He's a poet of history and philosophy!
Why do you like working at Lemuria? I get paid to be around books and people who like them.
If Lemuria could have ANY pet (mythical or real), what do you think it should be? I keep asking Kelly for a cat but she says no because there's a restaurant downstairs, and she doesn't see my point that we wouldn't have to feed it then. Kelly please. We could call him The Great Catsby. Or Mew-dora Welty. Or Purr-man Melville.