By Clara Martin
What do cooking grease, ornery dragons, and Mark Twain have to do with each other? As it turns out, quite a lot.
At the Bancroft Library in Berkeley, California, in a search for recipes relating to a Mark Twain cookbook in the Twain Archives, the word "oleomargarine" pulled up 16 pages of handwritten notes. But the notes weren't about cooking. These 16 pages comprised a bedtime story, a fairy tale that Twain told his daughters, Clara and Susy Clemens, while in Paris in 1879.
The story ended abruptly with Prince Oleomargarine being kidnapped and taken to a cave guarded by dragons. The Mark Twain House sold the rights to Doubleday, an imprint under Penguin Random House. But with the author long gone and only 16 pages of notes to work with, the story needed some guidance.
Lucky for us readers, Philip and Erin Stead, the team behind the Caldecott Winning picture book A Sick Day for Amos McGee, took the reins in The Purloining of Prince Oleomargarine.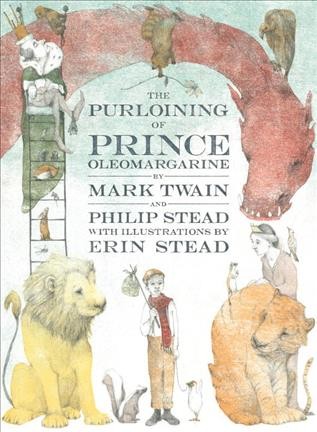 But how do you work with a dead man who was writing before the 20th century? By turning him into a character, of course.
In the story (and in real life), Philip goes out to a cabin on Beaver Island to write this story and converse with the ghost of Twain, who interjects in the first half of the story quite frequently. The banter goes on back and forth, with Philip Stead asking Twain "what happens next," and when Twain's own story doesn't fit with Stead's vision, he goes ahead, sometimes with Twain's permission and sometimes without.
What ensues is a hilarious feat of storytelling that hearkens back to the oral tradition. As you read, you will feel the need to read this to someone else, to share the story. After all, aren't the best stories meant to be shared?
So while the Steads make some changes, they stick to the theme that runs through all of their books–the importance of kindness.
The hero of the story, Johnny, is a young African-American boy whose grandfather is a "bad man." His only friend in the world is a chicken named "Pestilence and Famine."
He sells his chicken to an "old, blind woman, thin enough to cast no shadow." This beggar woman gives Johnny a handful of pale blue seeds in exchange for the chicken. She promises him that if he plants the seeds under very specific conditions, then a flower will bloom. If Johnny eats the flower, he will never feel emptiness again. He plants the seeds, and one flower blooms. Johnny eats the seed, ravenous with hunger, but he does not feel fulfilled. He is about to give up when he hears a voice: that of a talking skunk named Susy. As it turns out, the magic flower allows Johnny to talk to and understand animals.
Johnny's life with the animals is filled with peace. As the old beggar woman promised him, he does not feel emptiness because of his friends. But when they come across a notice proclaiming that Prince Oleomargarine has gone missing, Johnny and the animals go forward to help.
As it turns out, the King is very, very short. So, all of his subjects must stoop before him (or they will be enemies of the state). He claims that giants have taken his only son and heir to the throne. Johnny and the animals follow the trail and end up at the entrance to a cave, guarded by Two Ornery Dragons. AS the narrator says: "An important thing to know about dragons is this: They are always arguing with one another. No two dragons can agree on anything."
And, as this is where Twain left Philip Stead to pick up the storytelling mantle, this where I will leave you to discover the rest of the tale.
While reading The Purloining of Prince Oleomargarine, I felt as though I was reading a long-lost classic children's story. Which, in a way, I was. Thanks to the magic and artistry of the Steads, the gem of the original story is not lost. With Erin's ethereal illustrations that are suited for a fairy tale of this magnitude, she brings Phil's words, Twain's eccentricity, Johnny's pure heart, and the importance of kindness to life.
To borrow from Twain, I think the moral of the story can be summed up as such: "There are more chickens than a man can know in this world, but an unprovoked kindness is the rarest of birds."
Philip Stead will appear at Lemuria on Monday, October 30, to promote The Purloining of Prince Oleomargarine. He will sign books at 5:00, and he will read from the book beginning at 5:30.