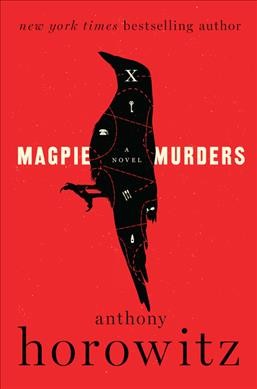 Let me start by saying that I'm a big fan of Agatha Christie; I'm super pumped for the Murder on the Orient Express movie coming out later this year. So when I saw that Magpie Murders by Anthony Horowitz was described as similar to Christie's books, I immediately grabbed it to read.
Magpie Murders is actually two books in one. The framing story is about Susan Ryeland, a publishing editor, trying to solve the murder of Alan Conway, a bestselling mystery writer. Conway's books are reminiscent of Christie, with a Poirot-esque detective, English countrysides, and intricate webs of suspects, clues, and motives. The book within the book is the actual Magpie Murders story, Conway's latest novel starring his detective Atticus Pünd.
When Conway is found dead of an apparent suicide, his editor, Susan Ryeland, can't help but feel like something is fishy. She starts poking her nose around and ends up going to Conway's hometown to talk to the cast of characters in Conway's life. Ryeland knows that what she's doing is a bit crazy and goes through a thought process of how everyday people don't just turn into sleuths like they do in the books she edits. That doesn't stop her, however, from playing Nancy Drew to try to prove that Conway was actually murdered.
While visiting Conway's hometown, Ryeland sees just how much inspiration the author drew from his real life. Several of the characters in his books are based off the actual people that surrounded him. There are direct references to his town and his house in the books.
Horowitz has done a fantastic job of recreating Christie's voice in the Alan Conway novel. It doesn't feel like a carbon copy, but the way Pünd interacts with suspects and is able to detect barely noticeable clues is instead an homage to Hercule Poirot. Horowitz himself has written for the popular Poirot television show (which is one of my all time favorites). He's also written for Midsomer Murders and created the show Foyle's War, both of which are great detective shows (All three of these can be found on Netflix).
I really enjoyed the format this was written in, with the fictional novel opening the whole book. I found myself hooked, trying to figure out the complicated clues and untangling the web of motives and suspects. If you like a good a whodunit, then you'll love Magpie Murders.