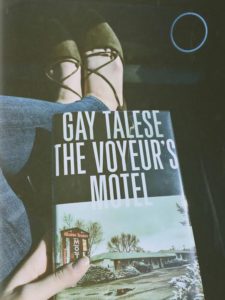 Before I just dive right into my thoughts on this book, let me share with you a piece from the cover flap of Gay Talese's book The Voyeur's Motel:
"On January 7, 1980, in the run-up to the publication of his landmark bestseller Thy Neighbor's Wife, Gay Talese received an anonymous letter from a man in Colorado. "Since learning of your long awaited study of coast-to-coast sex in America," the letter began, "I feel I have important information that I could contribute to its contents or to contents of a future book."
This anonymous letter was written by Gerald Foos, a motel owner in Denver, Colorado. What Foos went on to explain to Talese was pretty astonishing: Foos had purchased this motel to satisfy his voyeuristic desires and had built an "observation platform" underneath the roof of his motel. He installed "vents" near the foot of the bed into motel rooms in order to watch and listen to his guests. Foos writes, "The advantageous placement of the vent will permit an excellent opportunity to viewing and also hearing discussions of the individual subjects."
Gerald Foos kept journals for around 15 years (between 1960-1980) and included almost every detail that he found important or interesting. Yes, there is quite a bit of detailed information dealing with sexual encounters of Foos's unknowing guests. But, Foos really seemed to think of himself as a researcher of American society and sexuality.
He gathered statistics on different matters, such as the effects of the Vietnam War on sexual relationships, or relationships in general. The motel was located near a type of "half-way house" for men who had just arrived back injured from Vietnam. There were a few occasions when Foos witnessed and recorded men who were either paralyzed or had lost a limb in the war, and that injury's effects on their sexual encounters with either wives or lovers.
Foos recorded the effects of the desegregation of American society in these relationships, as well. He noted that, before the late 60s and early 70s, white women would wait in the car for their African American counterpart to just grab the keys, and would not go inside together. Later, both subjects would enter together and go to the front desk to check in.
I wish I could tell you more about some of the encounters Gerald Foos recorded in his journals…but I don't think they are very appropriate for this blog. What I will say is that Gerald seemed to think that the movie Deep Throat had to do with the rise in his guests participating in one particular sex act and that men of the 1960s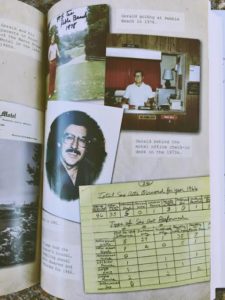 weren't great at sex, and could really care less if their wives were satisfied–gender roles at their finest.
The Voyeur's Motel is an amazing work of narrative journalism which I could not put down. The majority of this book is from Foos' actual journals and notes which were extremely fascinating. But….what a freak…right? Right? I can't decide. Everyone is curious, but Gerald Foos took it to the extreme, and I thank him for it.