By Tom Williams. Special to the Clarion-Ledger Sunday print edition (January 21)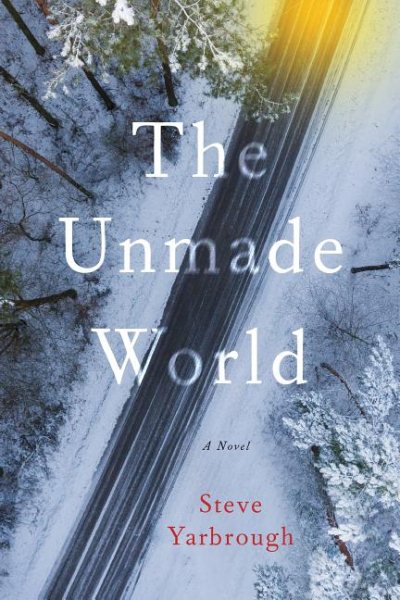 Just about midway through The Unmade World (Unbridled Books), Steve Yarbrough's seventh novel, the central character, Richard Brennan, reflects upon his writing process as a reporter.
"Something always happened to him when he knew he'd found his story. A moment came when it seemed as if it would write itself as long as he kept putting one foot in front of the other and didn't complain about lack of sleep, difficulties that threw themselves before him, people who either lied or paid out the truth like fishing line."
I don't doubt Yarbrough's own writing process parallel's Richard's. In the now 10 books he's published, dealing with such thorny subjects as race relations, redemption, and infidelity, rendering settings from the South, the Northeast, the 19th, 20th, and now 21st centuries, Yabrough makes it look easy to compose lucid prose that gets out of the way of characters as real as your reflection and involved in complex, suspenseful plots. Faithful Yarbrough readers won't be suprised to see that he has once again "found his story" in The Unmade World.
Concerned principally with Richard and Bogdan Baranowski–two characters yoked together by a set of fateful events on a wintry Polish night–The Unmade World unfolds in three sections, alternating between Poland and Fresno, California, from 2006 to 2016.
And while the political, cultural, economic upheavals of this period are never far from the character's lives, what's equally significant are the personal crises faced by Richard and Bogdan. Richard is "trying hard but mostly failing to overcome his loss," while Bogdan believes he is "missing some essential element. What is was, he didn't know."
Yarbrough surrounds these characters with other vividly rendered, wounded souls: Richard's brother-in-law, Stefan, a novelist who races to finish a novel before cancer finishes him; Marek, a colleague of Bogdan's, physically scarred by their doomed escapades; Maria, a fellow journalist, driven by the unresolved murder of her own father to uncover and remedy current injustices.
Electing to tell the story in third person omniscient, Yarbrough provides the readers the motives and mindset of this diverse cast of characters (we glimpse the thoughts of at least a dozen: male, female, middle-aged, teenaged, Pole, American), yet his expertly wrought dialogue keeps Richard and Bogdan true to themselves as men who stoically attempt to deal with what life has thrown at them.
In one of the novel's many stunning moments–and there are many–Bogdan refuses to share with the police the complicity of Marek and others in a scheme to get older tenants to vacate an apartment building. When asked his motive, he replies, "I'm a shell of a person, and I'm drawn to old buildings that remind me of myself."
One certainty throughout is Yarbrough's absolute mastery. Too often, a thriller skips by breezily, and a more literary novel gets bogged down by intellectual concerns. In The Unmade World, Yarbrough neatly negotiates between Richard and Bogdan's narratives, building suspense so effortlessly, you're often tempted to skip a chapter, only to get wrapped up in the tantalizing clues.
And through the third section of the book at first moved at too swift a pace for me, the finale is tautly rendered it left me breathless. And hopeful–a destination you might not imagine upon finishing the relentless first section.
After reading Yarbrough's first novel, The Oxygen Man, nearly 20 years ago, I became a convert, and with every book I kept expecting this would be theone that elevated his fiction to a much-deserved place in the highest ranks.
What's obvious, though, is that Yarbrough is at the top of his game. The Unmade World is a marvel. It's the kind of book that would equally impress readers of John Grisham and of Jesmyn Ward. Throughtful, entertaining, rich with detail, each page entrances.
Tom Williams lives in Kentucky. His publications include the novel Don't Start Me Talkin', and the entrance on Steve Yarbrough in The Mississippi Encyclopedia.
Steve Yarbrough will be at Lemuria Books on Monday, January 29, at 5:00 p.m. to sign and read from The Unmade World.