I'm not much of a sci-fi guy. Enjoying certain popular films like Interstellar or works like The Martian has never been outside my personal realm of possibility, but am I going to go out and search for the most brilliant and obscure work of sci-fi literature? Probably not. That being said, it might have found me.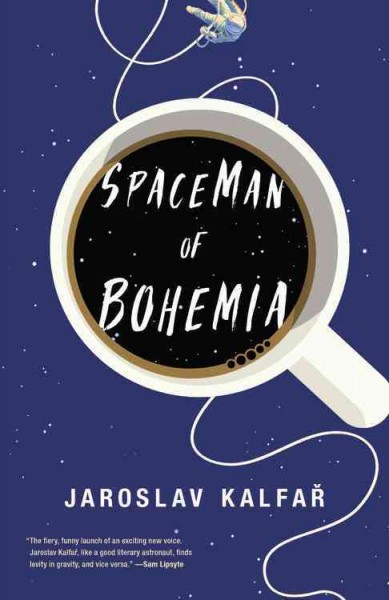 Jaroslav Kalfar's Spaceman of Bohemia is a novel that fits just as comfortably on the shelf next to Kafka as it does in the realm of sci-fi and space adventure. This is a novel that perfectly captures the feelings of loneliness and anxiety that can only come through accepting ambition while subsequently affirming the need to ground personal identity outside oneself, whether it be in love or in history. However, in order to feel out how Kalfar's work stands out among the rest, it helps to understand the world of the author.
Sitting at the edge of Eastern Europe, Prague is the capital city of the Czech Republic and is traditionally considered to be the center of Bohemia. The Prague of the protagonist, Jakub Prochazka begins in 1948 when the Communist Party took power and all other parties became officially deceased.
My name is Jakub Prochazka. This is a common name. My parents wanted a good life for me, a life of good comradeship with my country and my neighbors, a life of service to the world united in socialism.
Jakub's father is an informant for the Communist regime with a secret affinity for Elvis Presley and a deep love for his family. At an early age, Jakub admires his father for his dedication to the ethos of his nation, but with the fall of the Iron Curtain the success of the Velvet Revolution in Prague, and the mysterious death of his parents, Jakub is launched into a void of personal identity that can only be captured in the grand metaphor of space travel. In an attempt to distinguish itself as an autonomous nation, the Czech Republic chooses Jakub to embark on a potentially dangerous space mission to investigate a mysterious, purple space cloud that no national superpower is willing to risk its citizens to understand. Jakub leaves his comfortable life with his wife Lenka and a prestigious position as a professor of astrophysics to claim fame and purpose for himself and his nation. As days, weeks, then months pass in his voyage, Jakub realizes the gravity (no pun intended) of the voyage itself, and the strain that it would put on his relationships back home. Then he meets a giant space spider.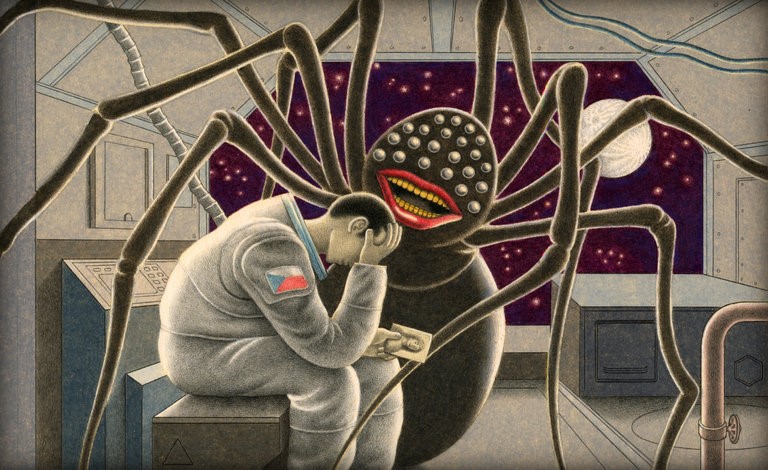 To those of you that are completely freaked out by this image, I will say that I was, too. However, I will also say that after finishing the novel I LOVE Hanus the spider. As Jakub struggles with space madness he (and the reader) attempt to deal with the meaning of Hanus' presence. I don't want to give away too much but I will say that Hanus is at once at the center of Jakub's peril and his guide through it.
While this novel takes on weighty themes and attempts at complex insights, it also reads seamlessly. Jaroslav's voice through Jakub's first person narration is at once hilarious and impactful. This Czech astronaut's story, if nothing else, proves that you don't need to go to space to venture into the balance between madness and sanity that we all experience in everyday life.