Kent Haruf passed away of cancer in November of 2014, shortly thereafter his final novel Our Souls at Night was published.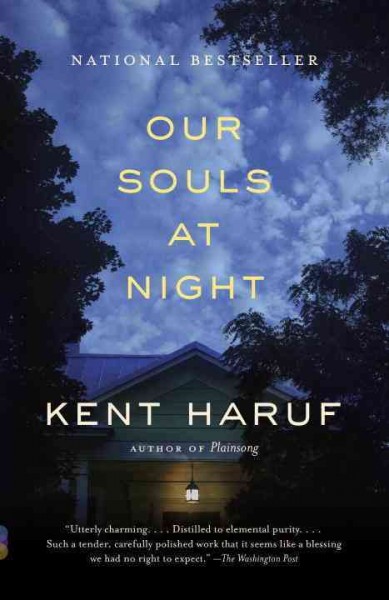 Our Souls at Night is now a film on Netflix starring Robert Redford and Jane Fonda. But, I encourage you to read this great author's last novel before seeing it. It's beautifully written and it will only take you an afternoon.
Haruf wrote this novel during the time in his life that he knew he was dying. He chose to write about finding love in the last chapters of these characters' lives in spite of his reality.
Louis and Addie are neighbors, they've know each other for awhile…but just as friends. Louis lost his wife about a year earlier and Addie has been widowed for some time now. Both are in their seventies and are a bit lonely, but getting by just fine on their own. Addie, who has trouble sleeping at night, makes a suggestion that they begin sleeping together. Just sleeping in the same bed, talking, staying with each other through the night…companionship.
As the nights go by, they learn about each of their histories; their past spouses, their children, their fears and what they both still want out of life at their age. They help one another in different ways: emotionally, mentally, and physically.  Addie's son is having some issues with his own son, so her grandson Jamie comes to stay with her for the summer. Addie and Louis help Jamie through a tough time and we learn that love is needed during all stages of life.
They start to have outings together, and people begin to notice their fondness of one another. They deal with rumors about the two of them that run through their small town, but even still…grow closer.
It's about love, and it's about loneliness and loss; friendships young and old, family and non-family. This is a book for literally anyone that wants a few hours of pure joy. I laughed and I cried, all in one sitting. The love and friendship between Addie and Louis is so real, I could feel it. This is a short read, but oh….it is so perfect. Haruf knew what he wanted out of this book and it's superb.