We're coming to the end of another exciting year for books. Below are a list of books that our staff consider to be the very best of the year in nonfiction, from the horrors of war, crime, and discrimination to the beauty of music, poetry, humor, and solitude. We encourage you to come to Lemuria and check these books out, either as a great gift for Christmas or a present to yourself to read in the new year.
John Evans, bookstore owner – Hue 1968: A Turning Point of the American War in Vietnam by Mark Bowden
Kelly, general manager – The Futilitarians: Our Year of Thinking, Drinking, Grieving, and Reading by Anne Gisleson
Austen, operations manager – Robert Lowell, Setting the River on Fire: A Study of Genius, Mania, and Character by Kay Redfield Jamison

Kay Redfield Jamison's latest book is both biography and 'psychological account' of the famed poet Robert Lowell's life and his madness. It's a terrible joy to read this book. Lowell suffered from manic-depression. Jamison, herself a psychiatrist and fellow sufferer, has intimate knowledge of his illness, which makes for an acutely insightful study. Caring, engrossing, embalming.

Lisa, first editions manager – The Stranger in the Woods: The Extraordinary Story of the Last True Hermit by Michael Finkel
Hillary, front desk manager – No Ego: How Leaders Can Cut the Cost of Workplace Drama, End Entitlement, and Drive Big Results by Cy Wakeman
Clara, Oz manager – How the Cookie Crumbled: The True (and Not-So-True) Stories of the Invention of the Chocolate Chip Cookie by Gilbert Ford

My favorite non-fiction book this year is How the Cookie Crumbled: The True (and Not-So-True) Stories of the Invention of the Chocolate Chip Cookie by Gilbert Ford. Who doesn't love a chocolate chip cookie? This story indulges my sweet tooth and my love of history. And Ford's picture book biographies are always really engaging for children–and adults!–to read together.

Abbie, fiction supervisor – The Stranger in the Woods by Michael Finkel

The Stranger in the Woods is the true story of Christopher Knight who decided to live completely by himself in the woods of Maine for 27 years, pilfering off the summer cabins that surrounded the nearby lake to survive. To the locals, he became known as the North Pond Hermit. This is a fascinating tale about solitude, humanity, and what it means to live.

Guy, First Editions Club supervisor – October: The Story of the Russian Revolution by China Miéville


October is an electrifying centenary tour through Russia's axial year, 1917. Read October because China Miéville is a good writer and this is a great story.

Andrew, blog supervisor – Killers of the Flower Moon: The Osage Murders and the Birth of the FBI by David Grann

Killers of the Flower Moon serves well on its own as an engrossing mystery about the criminal acts committed against the Osage people, but its true genius is giving voice to the victims otherwise lost to time. This book is entertaining, enraging, and well worth your time.

Hue 1968 is an unflinching look at an intense battle between North and South Vietnam and the USA, a battle that would forever change the nature and course of war.  It's the story we didn't see on the nightly news in 1968 but one we could bear witness to with the return of battle scarred young vets.

Ellen, bookseller – Killers of the Flower Moon by David Grann
Katie, bookseller – Cornell '77: The Music, the Myth, and the Magnificence of the Grateful Dead's Concert at Barton Hall by Peter Conners

The Grateful Dead's "best show ever" comes to life as Conners breaks down each song played in both sets. This book is a wonderful Christmas gift for any and all Deadheads out there!

Aimee, bookseller – Vacationland: True Stories from Painful Beaches by John Hodgman

Vacationland is full of laugh out loud moments, which are my favorite kind of moments. Full of essays about John Hodgman's life, they are mostly relatable. Mostly.

Hunter, bookseller – Astrophysics for People in a Hurry by Neil deGrasse Tyson
Trianne, bookseller – Ranger Games: A Story of Soldiers, Family, and an Inexplicable Crime by Ben Blum
Jamie, bookseller – Reading with Patrick: A Teacher, a Student, and a Life-Changing Friendship by Michelle Kuo

The author's honesty about education policy, pedagogy, race, privilege,  and poverty is thorough.  Kou's devotion, her calling, to her students is palpable and inspiring.  A lovely read.

Abigail, bookseller – Code Girls: The Untold Story of the American Women Code Breakers of World War II by Liza Mundy
Nicola, bookseller – The Future is History: How Totalitarianism Reclaimed Russia by Masha Gessen

The Future is History gives us Americans a much needed glimpse into just why Putin is so popular with Russians, with many personal stories alongside the straight-up research. Even if you have not been following the news this past year closely,  this book gives enough context to be very accessible. I don't know where Russia is headed in the future, but I highly recommend this National Book Award winner to at least give us all some context.

Dorian, bookseller – Stamped from the Beginning: A Definitive History of Racist Ideas in America by Ibram X. Kendi
Stone, suspicious-looking character – The Book of Miracles by Till-Holger Borchert and Joshua P. Waterman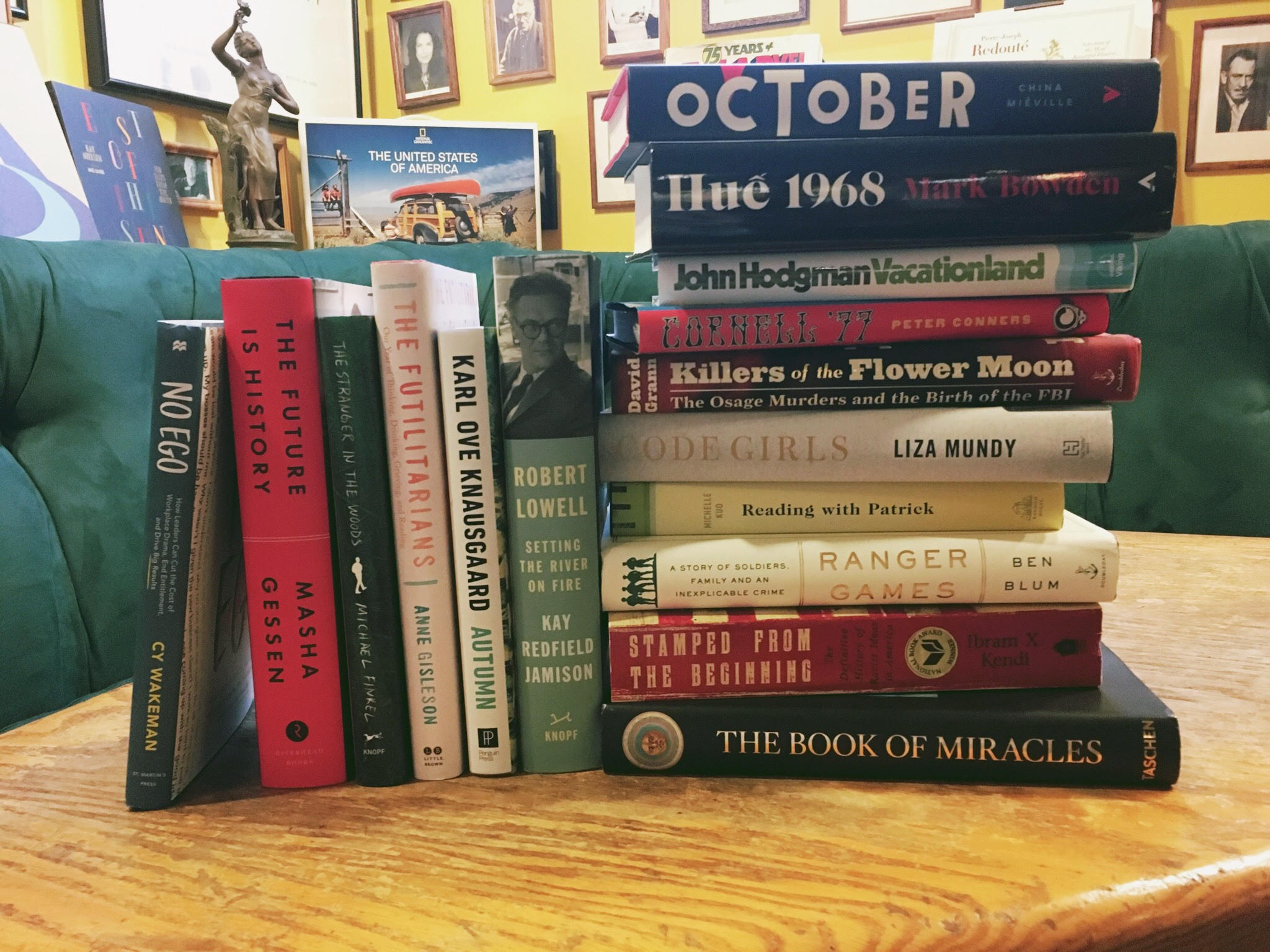 Did you enjoy our recommendations? We hope so–but we want to hear from you, dear readers! Tell us your favorite fiction, nonfiction, or children's books published in 2017. Reach out to us on social media, e-mail us at blog@lemuriabooks.com, or come visit us at the store! All we need is your name and your favorite book of 2017, and a brief description like the ones above and a picture of your book if you wish. We will be dedicating a post next week to our the customers and community of Lemuria. Here's to a happy new year, full of more great books!