I've stopped fighting Ron Rash.
This is how it usually happens: I see a book on the shelves at the store, hear other booksellers talking about it, and think to myself Sounds good, but I really need to wait till my next paycheck to buy another book. Then, said author shows up and does a phenomenal reading. Predictably, my aforementioned responsibility dissolves, and I become Veruca Salt from Charlie and the Chocolate Factory, clutching a copy of the book and mumbling to myself, "I want it NOW!!!"
However, I've learned to stop this futility with Ron Rash. When he read from Something Rich and Strange, I knew I would love the book, and I snagged a copy before he left the store; when he read from Above the Waterfall, the entire audience was transfixed to the point of collective held breath, and I knew I needed that power on my own bookshelf. So, when I saw his Poems: New and Selected, I didn't even wait till he came to the store. I went home with a copy that afternoon and haven't regretted it.
Rash is one of the rare writers who can shift between prose and poetry seamlessly. Fans of Rash's fiction often cite the depth of his characters, rich description, and gorgeous language. These things are present in his poems as well. Yet a poem can explore an idea in a different, more direct way than fiction can. While fiction examines the condition of humanity and relationships, a poem can focus on things beyond humanity, like the natural world. Take his short poem "Deep Water" for instance:
The night smooths out its black tarp,
tacks it to the sky with stars.
Lake waves slap the bank, define
a shoreline as one man casts
his seine into the unseen,
lifts the net's pale bloom, and spills
of threadfin fill the live well.
Soon that squared pool of water
flickers as if a mirror,
surfaces memory of when
this deep water was a sky.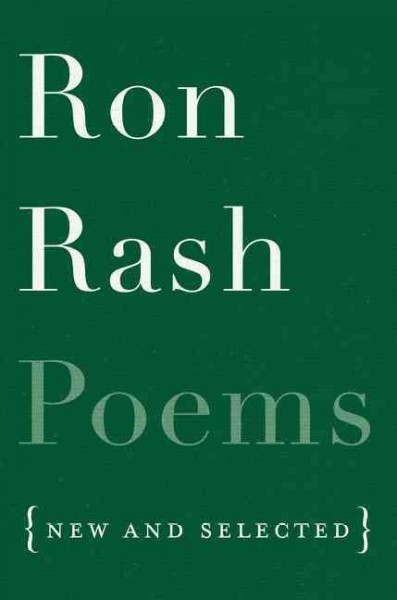 First off, the description of the night being a "black tarp" that's held in place by stars is simply genius. Trust me: this will affect the way you look at the night's sky from now on. And the way the poem shifts its (and our) focus from the sky to the lake in which this unnamed man is flinging his fishing net feels natural. This sky/lake relationship is maintained at the poem's close when, as the threadfin fish slip out of the seine net, the lake is compared to a mirror that reminds us of "when/ this deep water was a sky."
How, exactly, was the water once a sky? That depends on who you ask. For the fish, the water is their atmosphere, and its top is to them as the sky is to us. For us, when we look skyward and see clouds, there is also a quiet understanding that those clouds will fall as rain and eventually become an earthbound body of water. Rash cleverly puns on the verb "surface," the word serving both as the action of rising to the top (literally, the memory is being brought up) and as a reminder of the barrier between air and water.
Whether dealing with the complexities of humans or of nature, he always delivers with inventive description and clever language. If you find yourself mildly afraid of or curious about poetry, come pick up a copy of Rash's Poems: New and Selected. Or, if you need a little more convincing, come hear Mr. Rash read from the book this Thursday. You'll get firsthand evidence of why I've quit resisting his books when you listen to the current of his words, and any hesitancy to buy the book gets swept away.