Interview by Jana Hoops. Special to the Clarion-Ledger Sunday print edition (January 28)
Indianola native and longtime author Steve Yarbrough once again branches out into new territory (geographically speaking) with his newest novel The Unmade World, set in both Fresno, California, and Krakow, Poland, as he spins a tale of tragedy, remorse, grief, and, finally, redemption.
After living in Fresno himself for two decades even while becoming intimately familiar with his wife's native country of Poland, Yarbrough weaves these two sites together seamlessly as his main characters are fatefully bound together by unimaginable pain. The story chronicles their decade-long struggle, 6,000 miles apart, to make sense of a life-changing tragedy.
The author of 10 previous books, Yarbrough has received numerous awards for his novels and short stories, including the Mississippi Institute of Arts and Letters Awards for Fiction, among others.
An "aficionado" and instrumentalist of jazz and bluegrass music, he teaches in the Department of Writing, Literature, and Publishing at Emerson College and lives in Stoneham, Massachusetts, with his wife Ewa.
How did the Poland and California locations and your familiarity  with them drive the plot that forever ties an American journalist with a working-class, financially strapped Polish man who had come to the end of his rope?
Well, as you said, I lived in Fresno for two decades got to know it pretty well. It's a city with some complexes, chief among them, the awareness that it's ridiculed by people in the Bay Area and Los Angeles, and though I seldom felt moved to write about it when we lived there, the day finally came.
As for Krakow, we lived there, too, having bought an apartment there in 2002. I know it better than I know any American city. We don't own a car in Poland, and so I walk everywhere. I came to love the city. Many of my best friends live there, and though we sold our apartment last year for reasons I won't delve into, I fully expect to buy another one there one day, maybe even to retire there. It's a magical city.
You have said that, in your writing, you've found that not boxing yourself into an outline is key to character development. Please explain how this works for you.
If I never surprise myself, how can I hope to surprise a reader? And if I sit down to do only what's already planned out, when do I experience the joy of discovery, that galvanizing moment when the story takes a turn I didn't foresee? Those are the moments I prize above all others. Not just in writing, but in life as well.
After the death of his wife and daughter in an automobile accident, main character Richard Brennan blames himself each day for having had too much to drink at dinner that night. He is convinced that, if he had been behind the wheel, instead of his wife, "everything that did happen wouldn't have." He begins to think of himself as a "lost man," eventually realizing that he's lost his motivation to work as a reporter. Meanwhile, life for Bogdan Baranowski, the driver of the other car, has become even more frayed as he deals with his guilt. What keeps them going as they begin to slowly carve out the roles that are left for them?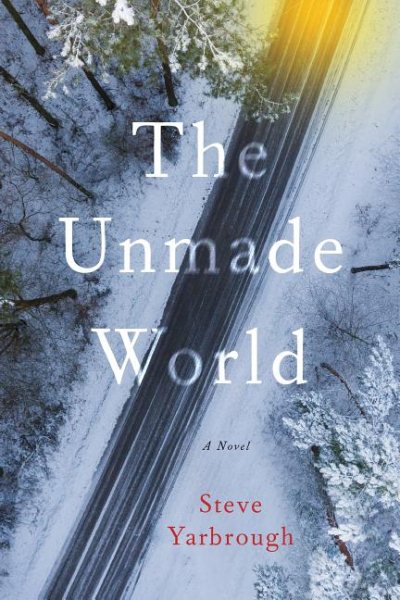 I believe each of them is stronger than he initially thinks is the aftermath of that tragedy. Richard is a naturally skilled writer, and those abilities, along with a lifetime of trying to do an honest job as a reporter, eventually re-involve him in life.
Baranowski's problem is that he had a hard time handling the transition from a state-controlled economy to the free market model and his business failures left him desperate. They've both got some resilience, and I think both of them are ultimately decent people.
Baranowski comes to realize that, as he puts it, his companion Elena's world had become "unmade" in respect to the mysteries of how people come together in meaningful relationships. Describe the notion of the "unmade world."
Elena is from that part of the Ukraine that was devastated by the recent conflict. Like Richard, she's lost most of those who matter. Yet she's tough. She's a survivor, and ultimately all of the people at the heart of this novel–Richard, the female reporter named Maria who helps him investigate a gruesome murder, Baranowski, his criminal partner Marek–they're survivors.
The world is coming unmade all around us. Wars all over the lobe, people being run down on the street in New York, subjected to acid attacks in London, to drone attacks in Iraq. There's not a lot of stability anywhere. We need to find it in ourselves.
There is a scene in the story in which Baranowski is challenged by the idea that telling his story, and not walking away from it, could bring redemption. What can we learn from this?
In the era of alternative facts? I think we could adhere to what my grandmother used to tell me: "Don't try to make folks think you're something you're not." As Americans, we cling to the myth of our own innocence. Poles, in my experience, are a lot more likely to own up. As you know, having read the novel, Baranowski finally meets someone whom he trusts enough to tell her what he did. And she helps him begin to live a better life.
For several characters, there is a thread throughout the story that suggests the relevance of a belief in God, i.e., how just being in church by yourself can build courage, and how faith can help soothe the inevitable pains of the human experience. Why did you include this as an important element in the story?
Well, I'm a believer. Always have been. But I'm not a churchgoer. Or to say this more precisely, I don't go to church services.
But I go to church frequently, especially in Poland, where churches are open pretty much all the time and you can go in and sit down and meditate or say prayers of whatever. I find comfort there.
I think about those who have sat there before me, in a country that suffered so brutally in the Second World War and then survived another 45 years with the Soviet boot on its neck.
I have faith in the triumph of the human spirit, even now, and I have faith in those who seek to help people in need.
Throughout the story, the continuing description of Baranowski includes an unsightly facial mole that seems to define his appearance. Is it in any way a metaphor of his life situation and the hurts he has endured?
I'd say it could represent both the hurts he has endured and those he has inflicted on others. At the same time, I'm not an overtly symbolic writer. As Flannery O'Connor told us, the wooden leg in "Good Country People" is first and foremost a wooden leg. That mole is first and foremost a mole.
Are there future writing projects you can us about?
I just started a novel about a pair of sisters. It begins in the Delta in the mid-70s. Right now, that's about all I know. I'm waiting for the story to tell me where it wants to go.
Steve Yarbrough will be at Lemuria tonight (Monday, January 29, at 5:00 to sign and read from The Unmade World.