Interview by Jana Hoops. Special to the Clarion-Ledger Sunday print edition (January 14)
New York native Nathaniel Rich has made his home in New Orleans for nearly a decade, drawn, he said, by the city's strong sense of its own identity, and its proud "indifference" to what is going on elsewhere–not to mention, as he puts it, "all the usual things" New Orleans is known for–unrivaled food, music, culture, and landscape.
But it was the history of the city that sparked Rich's inspiration for his newest novel, King Zeno (Farrar, Straus and Giroux) an engaging tale that incorporates true events from early 20th-century New Orleans and weaves together the stories of the lives of three unlikely characters in a surprise ending that is both chilling and redemptive.
A contributing writer for The New York Times Magazine, Rich's essays have appeared in The New York Review of Books, The Atlantic, Rolling Stone, and The Daily Beast, among others. He is also the author of two previous novels, Odds Against Tomorrow and The Mayor's Tongue.
You come from a literary family–your brother Simon Rich is a humorist, novelist, short story author, and screenwriter; your dad Frank Rich has enjoyed a career as a columnist, essayist, and TV producer; your mom Gail Winston is an executive editor for a major publisher and, and your step-mother is a magazine writer. What's it like to be in a family with so much writing talent, and what have you learned from each other?
Many writers at some point have to overcome their parents' disapproval, if not outraged incomprehension, at their choice of profession. I was fortunate to have to face down only thinly veiled discouragement and queasily suppressed anxiety.
My brother is a brilliant writer of fiction and I learn tremendously from his example, his work, and his counsel.
Coming after your first two novels, The Mayor's Tongue (an imaginative sand telling story of shared miscommunications in everyday relationships) and Odds Against Tomorrow (a catastrophic look at the effects of a major hurricane that hits Manhattan)–it seems that King Zeno is in many ways a departure from their style in that it is a historical novel based in part on real-life events (including the still unsolved "Axeman murders") in New Orleans as World War I was drawing to a close in 1918. Did you feel like you were in some ways "switching gears" with King Zeno?
In a number of superficial ways King Zeno is unlike the earlier two–just as the first two novels are unlike each other. They are set in very different periods with characters who wouldn't know what to make of each other if they showed up in the same room together (something like this happens at the end of The Mayor's Tongue). But all of the novels came about the same way, from an initial suggestion–in this case, a historical article in the New Orleans Times-Picayune–that attracted other ideas and stories and subconscious embellishments until it had achieved the weight and requisite spookiness of a novel.
The are commonalities that go deeper than questions of plot and setting. Each of the novels contends with a desire to examine a problem without an easy resolution: the limits of language (The Mayor's Tongue); the fear of the future (Odds Against Tomorrow); the desire for immortality (King Zeno). Each novel also balances on a knife's edge between a plausible, lifelike reality and a fantasy realm, so in that way they all seem to me to occupy the same world. And the sensibility, or the voice, is the same–an inevitability, since they were written by the same person.
With in-depth stories of each of the three main characters that converge at the end, set in New Orleans during a severe Spanish Flu epidemic, the Axeman murders, the growing popularity of jazz, and the construction of the industrial canal connecting the Mississippi River with Lake Pontchartrain, there is a lot going on in King Zeno. With so much historical detail to cover, how did you conduct the research for this book, and how long did it take?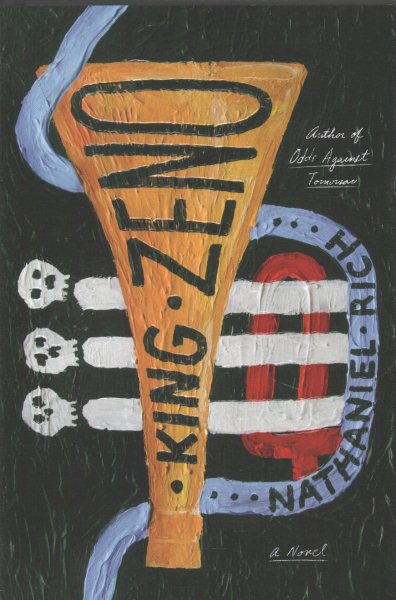 The initial idea grew out of my fascination with two historical events: the series of unsolved ax murders that reached its culmination with a bizarre letter to the Times-Picayune; and the excavation of the Industrial Canal, a hubristic manhandling of the local terrain that has haunted New Orleans ever since.
I visited the New Orleans Historical Collection and the Louisiana Research Collection at Tulane, devouring newspapers and other publications from the period. The newspaper crime journalism, written in a breathless, panicky, Gothic style, gave me an element of the novel's tone.
Louis Armstrong would have been about 18 during the action of the novel, about the same age as Isadore Zeno. His memoir about growing up in New Orleans, Satchmo, has novelistic detail about life in the part of the city then known as Battleground, explaining, for instance, the differences between a third-rate and second-rate honky-tonk; which railroad tracks grew the best medicinal herbs; where to buy fish heads cheap. Jelly Roll Morton's conversations about the period with Alan Lomax, Mister Jelly Roll, taught me how to "shoot the agate" and how to pass as a "sweetback man." There are a few other fascinating books about jazz in the period: Louis Armstrong's New Orleans by Thomas Brothers; Donald M. Marquis's In Search of Buddy Bolden, and John McCusker's Creole Trombone.
My most valuable source, however, was an oral history project conducted by the Friends of the Cabildo historical society. Beginning in the 1970s, these amateur historian set out to interview elderly New Orleanians about their pasts. There are roughly 200 interviews in total, most of them conducted about 40 to 30 years ago. They are only available on cassette tape at the New Orleans Public Library's Louisiana Division. I was able to find about tow dozen interviews in which the subjects recalled life in New Orleans between 1910 and 1920. From those conversations, I learned that the great merchant ships from Buenos Aires brought to the wharves sacks of coffee, bones, and dried blood; that riding the ferry back and forth across the Mississippi was through to be a cure for whooping cough; that the chimney man used a palmetto frond for a brush.
The storyline of King Zeno revolves around the ambitions, fears, and hopes of its three main characters: police detective Bill Bastrop; business executive and Mafia widow Beatrice Vizzini; and struggling jazz musician Izzy Zeno. Tell me how you approach character development, and what you find to be the most rewarding and challenging aspects of this skill in ficiton writing–especially in this book.
There were a number of technical challenges in making sure the dramatic narratives of the three characters lined up, to avoid allowing one storyline's revelations from interfering with another's. It's not the most exciting part of the writing process, but I find it satisfying to make the trains run on time.
When it comes to writing characters, however, the only reward is when you feel that a character has come to life. Until then, it is torture.
You have written one non-fiction book, San Francisco Noir: The City in Film Noir from 1940 to the Present, and  you are known for your magazine work of short stories and essays. Between these and  your novels, what kinds of writing would you say you enjoy the most?
Fiction is the most pleasurable, since it grant the greatest freedom; it's the form that occupies most of my time. But getting out into the world for the journalist pieces–getting out physically as well as mentally–keeps me sane. It also allows for a more immediate response to an idea or a subject than the fiction; my novels have taken about five years to write. As for the critical essays; among other advantages, studying other writers' work helps me to clarify my thinking about my own writing.
Each of the three forms–fiction, journalism, criticism–informs the others. I am a better novelist for spending as much time as I do thinking critically about literature, and for forcing myself into uncomfortable situations as a reporter. But the forms are not as different as they might seem. The y each require a similar puzzling with a narrative logic, dramatic structure, tone, argument, description, precision.
After growing up in Manhattan, why did you eventually choose to make your home in New Orleans, and are you a jazz music fan yourself?
Like a lot of people who leave the places they're from, I was ready for something different. The city began to seem stale to me, as crazy as that might sound when applied to a metropolis of that size. But I was getting the sense, about 10 years ago, that New York–or at least, my New York–was shrinking. I'd wanted to live in New Orleans since I was a teenager. It seemed like a city that knew itself, sores and all, and was largely indifferent to what was going on elsewhere. I loved that. The last thing I'd want is to move to a city that saw itself as a junior New York, a lesser rival with a chip on its shoulder.
I was also drawn to the lushness of the city's culture, its difficult relationship with its landscape, the food, the music, the enchantment, the feverish energies–all the usual things that bring people here. After nearly 10 years, the city continues to surprise me, for better and worse. I don't think you could say that about most places in America.
I do love jazz, and especially love the early New Orleans music, before it became self-conscious, when it was considered dangerous.
Are there future writing projects on the horizon for you that you can tell me about at this time? Any plans for more nonfiction?
I have a (long) short story in the new issue of the Virginia Quarterly Review called "Blue Rock" about three bad men trapped together in a lighthouse far out in the Gulf of Mexico. It's based on a true story, and takes place around the same time as King Zeno.
Nathaniel Rich will be at Lemuria tonight (Tuesday, January 30) at 5:00 p.m. to sign and read from King Zeno.