Interview with Lucy Buffett by Jana Hoops. Special to the Clarion-Ledger Sunday print edition (June 25).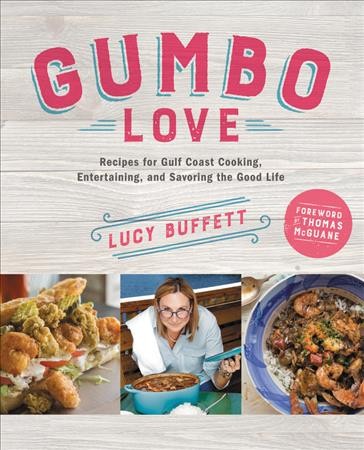 Along with her family, it's the spirit–and the food–of the Gulf Coast that claim the biggest parts of Lucy Buffett's heart, and she embraces both in her newest cookbook, Gumbo Love: Recipes for Gulf Coast Cooking, Entertaining, and Savoring the Good Life.
Part food preparation, part philosophy and thoughts on living life to its fullest, Buffett takes on topics like why dessert should be eaten first, why fried foods matter, and why sometimes you just need to "run toward what you fear: close your eyes, hold your nose and jump into it."
Growing up in Mobile with her sister Laurie and musician/brother Jimmy, Buffett developed a love for the culture and food of the Gulf Coast that eventually led her to open her now-famous "Lu Lu's" restaurants in Gulf Shores and, later, Destin. She works tirelessly to offer the best experience possible to her customers, and, through Gumbo Love and her previous book LuLu's Kitchen, to her readers, as well.
Please tell me a little about your childhood, and your spirit of adventure and celebration that seems to come from living along the Gulf Coast.
I was born and raised in Mobile, and, much to my dismay, I am the only person in my family NOT born in Mississippi! That includes my brother, Jimmy, my sister, Laurie, and me. But to this day, we still call each other by our nicknames: LuLu, LaLa, and Bubba. We grew up with dreams of living on the water–boating and recreating on the Gulf Coast shores in both Alabama and Mississippi, because we spent summers at our grandparents' homes in Pascagoula and Gulfport.
Of course, we are Southern to the core, but being coastal and Southern injects a passion for adventure and a curiosity for what lies beyond the horizon at the water's edge.
All of us have ventured far from our roots, and I'm the only one who came back home. But like all Southerners who "move away," my siblings still relish their Southern upbringing and the Gulf Coast cuisine of our childhoods.
Your travels through the years have taken you on a "food tour" that began when you left Alabama as a young woman, and cooked your way through Key West, New Orleans, Belize, New York City, Los Angeles–and back to Alabama.  How did all of those influences affect your cooking?
My cooking skills evolved with my travel adventures. I learned to cook from a Junior League cookbook as a very young wife and mother. I think travel is a very important and a necessary type of education, but since I had an affinity for cooking, I was always fascinated and eager to try new recipes for dishes that I encountered along the way.
I started cooking the dishes I grew up with, but moving to New Orleans deepened my knowledge of the Creole and Cajun cuisine that migrated across the Gulf Coast. Moving to the big cities, I learned how to appreciate and embrace food trends and dove into experimenting. It was fun and enlightening, but as I've gotten older and with my move back to the Gulf Coast, I've returned to my roots and that is the cuisine I serve at my restaurants. Regardless of what I cook or eat, I'm all about the food tasting delicious!
Tell me about the concept and intention of your cookbook Gumbo Love–and what the title means to you. Also, how many recipes are included?
There are 150 recipes in Gumbo Love and basically, it picks up the conversation about Gulf Coast cuisine that I started in my first cookbook, LuLu's Kitchen (2016), [formerly Crazy Sista Cooking.]
Gumbo Love is my homage to the Gulf Coast and the vibrant food culture of the beautiful beaches and swampy wetlands I call home. Gumbo is a classic dish in that culture, and every family has a gumbo cook or story to tell.
Making gumbo is not for the faint of heart! All the character building lessons I've learned over the years like preparation, discernment, patience, courage, and surrender are all utilized when making a pot of gumbo. Gumbo Love is not only the title of the book or a phrase I have coined, but a philosophy by which I live. It's about acceptance, love, respect, fortitude, celebration and gratitude.
Gumbo Love includes not only wonderful gumbo and soup recipes, but chapters with your own Gulf Coastal take on main dishes, vegetables, salads, sandwiches, sauces, drinks, and more–and the book begins with a chapter on desserts. Why start with desserts? 
I like to do things a little differently, not for the purpose of simply being provocative. For me, it's about being in alignment with my curious, creative and rebellious nature. I write about my mother a lot because she was such a powerful influence on me and my family. After she suffered a stroke, she started ordering dessert first when we would go out for lunch. It was wonderful, playful, and a bit out of character for her stoicism. I just thought it would be fun to make desserts the first chapter and it brought back lovely memories of my mother. Plus, I have a wicked sweet tooth!
Not many cookbooks these days devote a chapter to fried foods. Please tell me about the one titled "Deep-Fried Favorites: A Southern Must". 
I am Southern, and fried food is a part of my heritage and culture. Plus, it is one of the most delicious and delectable ways to prepare food. Being passionate about authenticity, I thought I needed to include recipes for the food that we all love and, by the way, is our number one best seller in my restaurants.
In the book, I explain how I have come to terms, in my older years, with balancing my eating the foods that better support my body and those that don't. I don't believe in good food or bad food. A little fried food or one dish of bread pudding isn't going to hurt. It's all about balance. And I'm very much at peace with my decision to never give up fried shrimp or chicken!
Tell me about opening the now famous LuLu's Sunset Grill in Gulf Shores out of a modified bait shop. What was LuLu's like in the beginning, and how it has grown?
The last 18 years of my 43-year work history have been what I call my own "Cinderella" story. But every job I've ever done prepared me to do the one I'm doing now. The first LuLu's was truly a wonderful and small waterfront dive. It had very humble beginnings and I worked all positions along with my two grown daughters and six other employees. It was fun and hard, hard work.
After five years, I lost my lease and my first impulse was to close. But with the help of friends and an investor who had faith in me and my concept, we moved to the current location in Gulf Shores, expanding the seating from 100 seats to 400 seats.  It took off like a wildfire as soon as we opened the doors. Today, I have an additional location in Destin, Florida, and over 500 employees. Yes, it is big, but it is all built on the original concept of giving our customers an authentic Gulf Coast experience. And we really work hard together as the LuLu's family to do just that!
In the book, you explain that an eclectic mix of foods is represented throughout the Gulf Coast, with colliding influences that include the cuisines and cultures of Cuba, Mexico, Africa, Louisiana Cajun and Creole traditions, and "Southern grace and simplicity." Where does Mississippi coastal food fit into that mix?
The Mississippi Gulf Coast has a long history in the seafood industry. The warm Gulf water is the home to some of the best seafood in the world! All the influences you mentioned are so evident in our cuisine using the beautiful Gulf seafood: shrimp, crab, oysters, and the sweet warm-water fish are central items on any restaurant menu or household dinner table. We are so blessed to have the bounty that we have from the Gulf.
Gumbo Love seems to be as much a book about inspiration, life lessons, advice, and encouragement as it is a top-notch cookbook filled with dozens of amazing recipes. Tell me about that "other purpose" for this cooking guide.
I am a very gregarious person, but I am also a very introspective person and I've devoted my adult life to doing the "inner work" required for self-improvement. I wasn't interested in doing a simple "how to" cookbook–if I am going to attempt any project, it must have meaning and purpose, other than just to make money. Gumbo Love gives a glimpse into my inner landscape that is the foundational block of my current business success as a restaurateur and personally as an independent, self-sustaining woman.
Can you share any career or other plans–maybe for books, restaurant expansions, etc.–for your future?
It took eight years to complete Gumbo Love and I worked on it fulltime for the last two-and-a-half years, so I'm going to take a break and get back to the restaurant business for a while. I have another LuLu's opening in Myrtle Beach in 2018 and that is VERY exciting.
I do have an idea for another cookbook, but the next book I will write will be a business memoir called Confessions of a Reluctant Entrepreneur. However, I will do that at my leisure, and I'm planning a very long vacation so I can relax for a while and enjoy this great life I've worked so hard to manifest!