Interview by Jana Hoops. Special to the Clarion-Ledger Sunday print edition (January 21)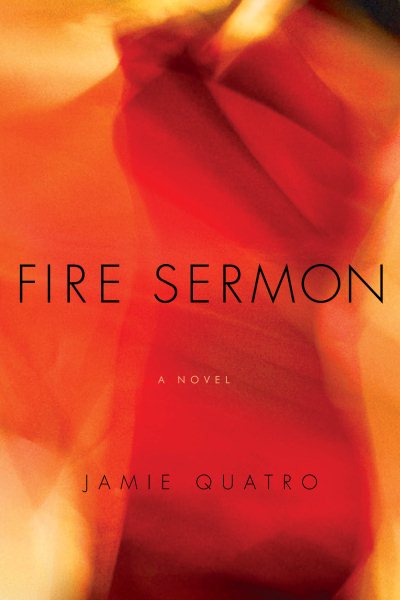 Jamie Quatro's debut novel, Fire Sermon (Grove Atlantic), weaves a pensive tale of lust and desire that comes as an unexpected but surprisingly desirable consequence of an innocent exchange of digital messages between main characters Maggie (a writer) and James (a published poet whose work she admires).
The twist on the Nashville author's story is that both parties are devoted spouses and parents who had no intention of ever finding themselves drawn into the daring–but undoubtedly pleasurable–relationship. And then there's the matter of Maggie's faith, which clearly disallows such behavior, and quickly adds tension to an already questionable turn of events.
As a fiction writer, Quatro said she doesn't remember a time in her life when she wasn't creating stories.
"In fact, I wrote my first story in second grade," she said. "I only member this because my mom saved it. It was called 'The Sad Day and the Happy Day.' The sad day was when Sally's mother told her it never snowed in teh desert on the border of Mexico, where they lived; happy day was when Sally woke to see snow covering the cacti. I suspect the story was heavily influenced by Ezra Jack Keats's The Snowy Day."
Today, Quatro's fiction, poetry, and essays have been published in The New York Times Book Review, Ploughshares, McSweeney's, and others. Her stories have also appeared in teh 2017 Pushcart Prize Anthology, Ann Charters's The Story and Its Writer, and in O. Henry Prize Stories 2013.
Her debut collection, I Want to Show You More (Grove Press), was a New York Times Notable Book, NPR Best Book of 2013, and a New York Times Editors' Choice. I twas also chosen as a New York Times Top Ten Book of 2013; a New Yorker Favorite Book of 2013 and was a finalist for the Los Angeles Times Art Seidenbaum Award for First Fiction, the Georgia Townsend Fiction Prize, and the National Book Critics Circle John Leonard Prize.
A contributing editor for the Oxford American, Quatro teaches in the Sewanee School of Letters MFA program. She lives with her husband and four children in Lookout Mountain, Georgia.
An accomplished author, you are already known for your fiction, poetry, and essays. Fire Sermon is your debut novel. In what ways was it different from previous writing projects?
I was under contract for a different novel and kept sneaking away to write sections of Fire Sermon. It was a delicious form of procrastination. I was sure I would never show anyone the pages. Once I reached page 100 or so, I told my agent about the cheating. She loved the pages and urged me to finish the book. I wrote the rest of it quickly, in a couple of months.
Fire Sermon is your first novel–one that's sure to catch the attention of many readers. You've taken an age-old plot–two happily married people are drawn to other loves, and find themselves caught between their dual loves and their faith in God. Why this topic?
In my first book, there were six or seven stories about an almost-affair. I felt I'd only begun to scratch the surface of the infidelity theme. I hadn't pushed as far as I'd wanted to, into the physical and spiritual. A professor in graduate school told me, once, that I needed to let my characters be messier–to do things on the hpage I would never do.
The main characters, Maggie and James, are unquestionably drawn to each other, and are amazed to discover their similarities…both are middle-aged writers, happily married for the same number of years, with the same number of children, and they even have 96-year-old grandmothers. How did this make the story more powerful?
The fact that James and Maggie have so much in common–even as Maggie has increasingly less in common with her husband–is in many ways the very appeal of the affair. The superficial commonalities mirror the much more significant intellectual, spiritual, and sexual bonds.
Your writing style is varied, to say the least–no quotation marks, no particular chronological order, conversations with an unnamed therapist, random journal entries, sometimes a stream of consciousness style of quickly firing strings of facts. Characters are referred to as "the husband," "the wife," "the daughter," etc. How did you develop this approach?
The structure of the novel evolved over time, draft after draft. I think it has something to do with the desire to tell a story from multiple angles and time frames. Maybe a wish to escape the confines of linear time altogether. So rather than stringing beads along a thread, drafting felt more like rotating a cut diamond in the light, to watch the light reflect and refract from various facets.
What are the messages Maggie shares in her attempts at poetry?
The first time she sends poems (to James) she's hoping for feedback–hoping, too, that James won't think the poems are bunk. The second time the poems are more erotic. I suppose you could say she's using them to draw James in.
After a few businesslike e-mail exchanges that begin when Maggie contacts James to praise his new book of poetry, the flirtations in their messages soon grow bolder and bolder, encouraged initially by him, but with Maggie's immediate complicity. It becomes a relationship that will haunt them forever, as it tries Maggie's Christian faith. Why did you choose to include the element of faith into this story?
When an act is forbidden, it often becomes more enticing. In this case, the religious rules against adultery heightens the thrill of breaking that rule. It also magnifies the subsequent guilt Maggie feels. How to lose the guilt but keep the erotic thrill alive somewhere inside–this becomes Maggie's psychological and spiritual struggle.
As Maggie watches her 21-year-old daughter growing into an accomplished young woman, she realizes that her children are "the reason for [her] existence." Is this a reflection on the state of her marriage and her split loyalties, or one you believe is shared by most mothers at this stage of life?
I can't speak for other mothers, but I certainly don't see my children as the reason for my existence. As they've grown, I've felt more and more like the person I was before having children. There's something sad and lonely about Maggie's statement. It's probably more a reflection of the state of her mind and marriage than it is a universal feeling.
Please explain the title "Fire Sermon." Certainly, it was a "sermon" Maggie had needed to say out loud for a long time.
The title comes from the Adittapariyaya Sutta–the Fire Sermon–in the Buddhist Pali Canon. It was one of the first sermons the Buddha gave after his enlightenment. T.S. Eliot, of course, also used it as a section title in "The Waste Land," in which he references St. Augustine's Confessions, and links the Buddhist Fire Sermon to Christ's Sermon on the Mount. So, the title references two ways of dealing with yearning and desire, Eastern and Western: confession and repentance, or recognition that burning is the result of attachment and illusion. The dialogue between Eastern and Western modes of thought is a thread throughout the novel.
Do you have other writing projects in the works?
I'm working on another novel and have almost finished a new story collection.
Jamie Quatro will be at Lemuria on Thursday, January 25, at 5:00 p.m. to sign copies of Fire Sermon and read from the book at 5:30 p.m. Fire Sermon is Lemuria's January 2018 selection for its First Editions Club for Fiction.