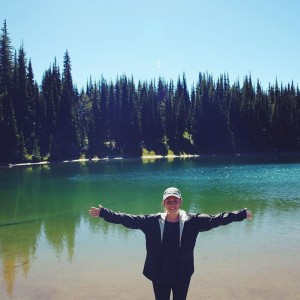 How long have you worked at Lemuria?  6 months….going on 7!
What do you do at Lemuria?  I sell books! Plus a lot of other things….Mostly, I like to keep things organized around the store. Currently, I tend to the Mystery section, the Popular Fiction section, the Fantasy/Horror Section, the Graphic Novels section, and soon I will also have the Gardening section. (I say soon, technically it is my section….but it's a bit of a mess right now, so I don't want to claim it just yet.) I'm also about to start handling/making all of the displays in our main room, which I'm really excited about.
Talk to us about what you're reading right now. I'm currently reading Katy Simpson Smith's new novel Free Men (out February 2016). I'm not too far into this one, but so far so good! Check it out once it's released!
What's currently on your bedside table (book purgatory)?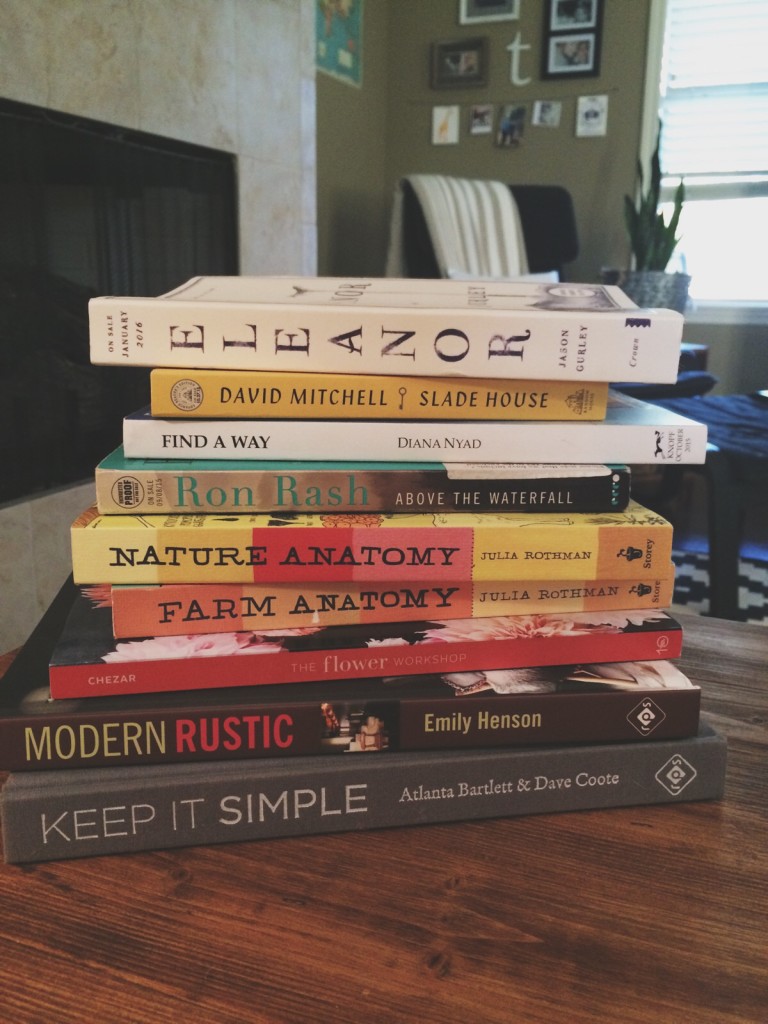 I know it's difficult, but give us your current top five books.
Room by Emma Donoghue (movie coming out in October!)
Our Souls at Night by Kent Haruf
The Girl of Fire and Thorns Series (three in one!) by Rae Carson
Gates of Evangeline by Hester Young
Where'd You Go Bernadette? by Maria Semple
Any particular genre that you're especially in love with? No. And I don't mean that in a harsh way. I think I've become known around the store as "Hillary, the girl who reads anything". If I like it, I'm going to read it.
What did you do before you worked at Lemuria? Like….do you want me to start from birth? Or, like in the past year? I'll just cover the past couple of years.  I graduated from Ole Miss with a degree in Psychology (cause, you know….why not?)
My husband still had a year left in Law School, so I worked as the adoption coordinator for the Oxford-Lafayette Humane Society for about a year and a half. Learned a lot from that experienced, gained three animals from that experience, too. Spay and neuter your pets, people!
Then my husband landed a job in the Jackson area, so we packed up our things (and animals) and moved on in!
If you could share lasagna with any author, dead or alive, who would it be? What would you ask them? Kent Haruf, who recently passed away. I wouldn't really ask him anything, I'd just like to let him know how much I really enjoyed his last, perfect book.
If Lemuria could have ANY pet (mythical or real), what do you think it should be? Real: About 4 cats. Mythical: Fully-clothed free House Elves that can get books down (with magic) from the top shelf for me.
If you had the ability to teleport, where would you go first? Probably Switzerland. I mean, have you seen the Alps?
I'll leave you with this…