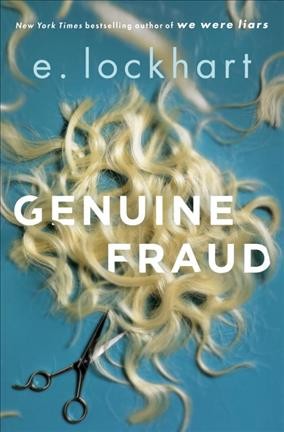 I was first turned on to E. Lockhart when my best friend and trusted book consultant recommended Lockhart's We Were Liars. She couldn't put it down. She loved it. She hated it. It wrecked her. All she could do after was take a nap. She couldn't stop talking about it. This got me interested and when I saw she was coming out with a new book called Genuine Fraud and we had an advanced copy I knew I just had to read it.
Knowing what I did about We Were Liars, I was hesitant to believe or trust anything in her new novel Genuine Fraud. I knew nothing and no one  would be as simple as they seemed.
Imogen is a runaway heiress, an orphan, a cook, and a cheat.
Jule is a fighter, a social chameleon, and an athlete.
An intense friendship. A disappearance. A murder, or maybe two.
A bad romance, or maybe three.
Blunt objects, disguises, blood, and chocolate. The American dream, superheroes, spies, and villains.
A girl who refuses to give people what they want from her.
A girl who refuses to be the person she once was.
Lockhart introduces a new and captivating suspense and psychological horror novel with Genuine Fraud. The book starts off with chapter 18, in June 2017. Hint: you should pay attention to the dates. The story is mainly told in flashbacks over the course of the past few years. The story is about Imogen and Jule and their friendship and time together. It's a story of those who lack morals. It is a story about those that lack ambition and others who will do whatever it takes to get what they want. It's a story about liars and cheaters (in more ways than one). It's about accidents and premeditation and telling more would give too much away.
If you have read We Were Liars, be warned the only similarity is that they both take you by surprise. Genuine Fraud is very straight forward and, in some ways, this makes the mystery even harder to figure out. It seems like things are one way, and because they are presented as fact, I was always questioning what was real and what wasn't. It is a very fast and short read, perfect for a weekend binge read. It has just enough ambiguity in the plot to keep you flipping the pages until the very end.