By DeMatt Harkins. Special to the Clarion-Ledger Sunday print edition (July 30).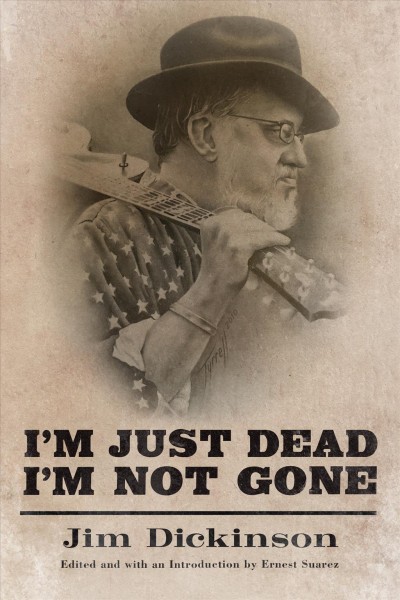 Jim Dickinson and wife Mary Lindsay dine with Atlantic Records' Jerry Wexler, famed producer Tom Dowd, Dr. John, and Mick Jagger at a Clarence Carter show. Was this a typical social occasion for Dickinson? Hardly. But his posthumous memoir, I'm Just Dead, I'm Not Gone(University of Press of Mississippi), demonstrates such a meeting is not surprising, either.
Father of North Mississippi Allstars principals Cody and Luther Dickinson, Jim Dickinson prospered as a music business triple threat–musician, songwriter, and producer. Beginning with a high school talent show, Dickinson's adroit musical abilities developed relationships that made him an industry resource, first locally in Memphis and later nationally.
Although he would later produce Big Star, The Replacements, Toots & The Maytals, The Radiators, Albert King, Steve Forbert, and Beanland, and record with Bob Dylan, Johnny Cash, and Mavis Staples, I'm Just Dead, I'm Not Gone covers Dickinson's first 30 years through 1971.
Dickinson's writing alternates between thematic directness and rapid-fire anecdotes that reveal a bigger mosaic. The prose is also regularly interspersed with his own poetry, further emphasizing the experience recounted. Part shoptalk, mostly shenanigans, I'm Just Dead, I'm Not Gone paints Dickinson as a eclectic, deft at spinning a yarn.
Dickinson explains his musical proclivity was no accident. Both of his maternal grandparents were in-home musicians, and his mother taught piano. Plus once they settled in Memphis, Dickinson's parents frequently caught big bands at the Peabody, occasionally bringing Jim with them.
Ultimately Dickinson points to two episodes from his youth that crystallized a scholarly zest for the region's music. While walking downtown Memphis with his father, the pair happened upon the legendary Will Shade & the Memphis Jug Band set up in an alley. They left Dickinson awestruck, and strangely it would be years before he learned who they were. Similarly in West Memphis another Saturday, he stumbled upon Howlin' Wolf's in-studio performance on KWEM. These were far from tuxedoed big bands, and left quite an impression.
Throughout his teens and early 20s, Dickinson hopped among overlapping local bands, playing guitar and keys on the party circuit, eventually making his way to the control room of several studios in town. He would come to know Memphis notables Sam Phillips, Steve Cropper, Chips Moman, Larry Raspberry, Sid Selvidge, Duck Dunn, and Don Nix. Dickinson bands opened for Bo Diddley and Jimmy Reed, and even played a real-deal chicken wire gig.
In time, homespun connections earned Dickinson sutdio experience in Muscle Shoals, Nashville, Miami, and Los Angeles. His achievements include Albert Collins' "Trash Talkin" (R&B Instrumental of the Year Grammy nominee), Arlo Guthrie's "City of New Orleans" (No. 18 Billboard Hot 100), and Aretha Franklin's "Spirit in the Dark" (No. 2 R&B/No. 25 Pop) including "Don't Play That Song" (Best Female R&B Vocal Performance Grammy winner) and and uncredited back-up vocal on the Allman Brothers Band's "Midnight Rider."
Easily Dickinson's most famous appearance is on the Rolling Stones' "Wild Horses." The story involves his buddy Stanley Booth from Memphis State, his wife's station wagon, an in-tune grand piano, and an out-of-tune band.
For all his successes, Dickinson also divulges the disappointing or hilarious near misses. A Sam & Dave record, and a session with Duane Allman and Eric Clapton each sat on the shelf for decades. Lenny Kaye (later Patti Smith's guitarist) interviewed Dickinson in New York for a feature in Esquire to promote his solo album Dixie Fried. On his way home, a mugger nabbed Kaye's tape recorder. And Billboard Magazine named the New Beale Street Sheiks' record its Pick Hit–three days before the Beatles debuted on Ed Sullivan.
Despite the ups and downs, in I'm Just Dead, I'm Not Gone, Dickinson humorously reveals the secrets to finesse and savor a satisfying life following musical passions.
DeMatt Harkins of Jackson enjoys flipping pancakes and records with his wife and daughter.
Mary Lindsay Dickinson (widow of Jim Dickinson) along with their son Cody, will sign copies of I'm Not Dead, I'm Just Gone at the Mississippi Bicentennial and Mississippi Encylopedia Party on Thursday, August 17, at 5:30 p.m. at the Cathead Distillery (422 South Farish Street, Jackson). Also, Mary Lindsay will serve as a panelist on the "Celebrating Our Roots: A Tribute to Mississippi's Musical Heritage" discussion at the Mississippi Book Festival on , Saturday, August 19, at 1:30 p.m. at the Galloway Fellowship Center.