The Doldrums: The Helmsley Curse is a stand-alone sequel to The Doldrums, published in 2015.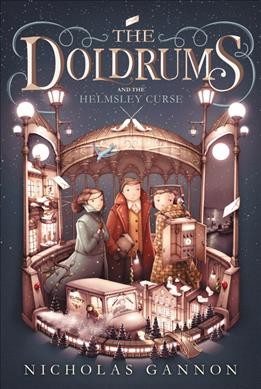 In Nicholas Gannon's first novel for kids ages 8 to 12, the reader meets Archer Helmsley, grandson to two of the most famous explorers, but who lives a very sheltered, unadventurous life himself. The book also features Oliver Glub, Archer's best friend and next-door neighbor. Then there's Adelaide, a girl with a wooden leg. Her leg, it was rumored, was bitten off by a crocodile. Now their second adventure begins following "the tiger incident," an escapade that convinced Archer's parents to send their son packing to boarding school, where he will be safely away from trouble.
But the city of Rosewood is getting colder by the minute, and the only explanation is the Helmsley Curse: as the Helmsleys approach Rosewood on their iceberg, everything gets colder. When Archer's grandparents sent him a piece of the iceberg they were rumored to have vanished on, Archer is sure they are soon to return home. However, with more rumors swirling in the air with the snow, will anyone welcome the Hemsleys–or will they think they are cursed?
For children who are fans of The Mysterious Benedict Society and A Series of Unfortunate Events, Nicholas Gannon's books are wholly original, featuring a new cast of characters, secrets, and mysteries to uncover in The Doldrums: The Helmsley Curse. Gannon, in addition to being the author, graduated from the Parsons School for Design, and he also illustrates his books.
Meet the author of The Doldrums on Monday, November 6 at 5 p.m. at Lemuria Books. The Doldrums: The Helmsley Curse is the Oz First Editions Signed Book for the month of November.