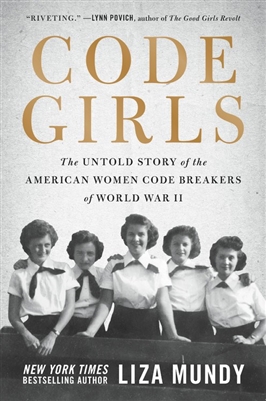 The Japanese attacked Pearl Harbor on December 7, 1945. The United States was caught virtually unawares,  in a nearly two decade season of disarmament. The U.S. military had sparse forces, and few spies abroad. There was an immediate and urgent need for code breakers to decipher enemy message systems.
The U.S. Navy and Army began to send out secret letters to universities, seeking high achieving young women to be taught training courses in code breaking. The women were summoned to secret meetings, and sworn to secrecy. They came from all different backgrounds, but all bright, hardworking, and eager to serve their country.
Liza Mundy in Code Girls highlights the contributions of such experts in the field as William and Elizabeth Friedman and Agnes Driscoll, as well as those of the many women that labored day to day to recreate enemy enciphering machines.
Wars, by those who fight them, say they should never occur. They hold atrocities that can be too much for the human soul to bear. Yet, in the ugliest and most terrifying of times, unrecognized human potential can be found. The code breakers of World War II fought in classified rooms, instead of the battlefield, but they fought with everything they had, and discovered previously unknown strengths and abilities. They served quietly and humbly, virtually unappreciated to this day. They were great American Women, they were the Code Girls.
Author Liza Mundy will be at Lemuria Books today, Friday, December 8, at 5:00 p.m. to sign and read from Code Girls.