By Roben Mounger. Originally published on her website, Ms. Cook's Table (along with an excellent Hoppin' John recipe)
The day after Christmas, my granddaughter Elodie and I cooked a menu of her design for the family. When tucked into bed that night, she said to her mother, "I am so happy and alive."
Understanding that happiness is ever elusive, spiritual teacher Eckhart Tolle instructs, "don't seek happiness." The dearest of third graders nailed the specifics: happiness sneaks up when we are doing that thing that makes us feel the electricity of life. No doubt Elo will manifest this elevator ride to the rooftop by preparing good things to eat for others her whole life through.
Meanwhile at the other end of the timeline, I watch the unbridled joy of her whirling dervish-ness which brings me gratitude and gets me jumping. Such observations are over there in the corner of my mind, along with a blooming fondness for vegetable gardening, documentaries on nature, and spiritual reading.
And then there's also that frequent kick I get from channeling my grandparents, not in their roles as grandparents, but as the people they were. All of these current favorite things give me access to alive-ness through the subtle feelings of gratefulness.
And I know without doubt: where I put my attention, so goeth my life. Each morning this coming year, I will set my sites on gratitude with a daily reading from a new collection drawn by the talks, writings and letters of Henri J. M. Nouwen. The meditations therein were compiled by Gabrielle Earnshaw, the curator of the Henri Nouwen Archives and Research Center.
Nouwen was a Dutch-Catholic priest who was engaged in social justice and community. For many years, he lived in a community of intellectually disabled men and women at L'Arch Daybreak. His documented experiences call us to see that even the pain and suffering in life can provide simple thresholds to fullness of being and an added appreciation for living.
I plan each morning to open my copy of You Are the Beloved and stream a roadmap to the essentials of being alive. Nouwen reflects on such thought provokers as: letting go, a new vision of maturity, what we're looking for is already here and passages to new life. I can use some extra doorknobs on those topics and the hundreds of others that the book offers for introspection.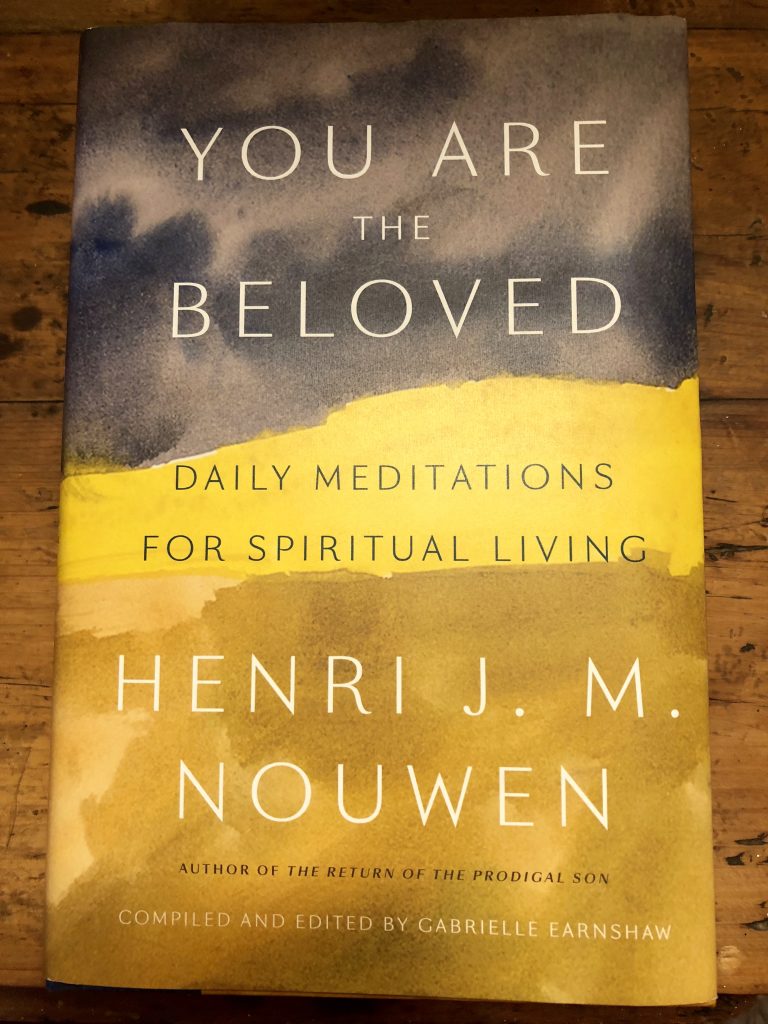 This hardback book is downright friendly in the way it rests in the hand. Each page is numbered by date in the top corner and contains plenty of free space to aid in your quiet approach to the day.
To get the lay of the land, I started by reading the last meditation, noting that I will read it again on December 31, 2018. And with a promise from Nouwen: "You are in communion with God and with those whom God has sent you. What is of God will last, 'I will undertake the year's commitment.'"
In gratitude, I open my arms to 2018 with a deep bow to my three year old grandson Robert. He showed the pathway with an essential prayer when, after a recent big sneeze he said, "Bless you, Me."
Author's note: I received You Are the Beloved free from Blogging for Books, but was in no way required to provide anything but an honest review.