It's that time of year again! The 3rd Annual Mississippi Book Festival is this Saturday at the Mississippi State Capitol from 9 a.m. to 5 p.m., and we are PUMPED! We asked Mississippi Book Festival Executive Director Holly Lange to give us the scoop on what people can expect from this year and how they can best enjoy this literary lawn party.
What do people who are new to the Book Festival need to know?
The panels are held inside air-conditioned rooms, and everything is FREE AND OPEN TO THE PUBLIC! The website has a PLAN YOUR VISIT tab that will be very helpful in mapping out panel times and locations. We strongly recommend you come with an itinerary for the day and maybe a back-up panel or two picked out in case one of the rooms is full. Everything in the Old Supreme Court Room will be aired live and also re-broadcast in the future on C-SPAN.
How should people dress? What should they bring?
It's August and, no shocker here, HOT! Dress for warm weather. We do not allow chairs, tents, coolers, etc. We will provide plenty of indoor and outdoor seating, and the lawns at the Capitol provide lovely shade.
How has the Book Festival grown since the first year?
By the numbers, we doubled our attendance from the first to second year. We never know how many people will actually attend, but we expect to exceed last year's number.
What are you excited about for this year?
I love everything about the festival! Everyone is so enthusiastic about participating. The Library of Congress is not only bringing an exhibit, but they are also bringing the actual Librarian of Congress (Dr. Carla Hayden)! One of the highlights, though, is to attend the kids' programs. Nothing is more heartwarming than watching young readers squeal with glee during a good storytelling session or when meeting their favorite author.
Any fun memories from the Book Fest so far?
I have many great memories. I think the most vivid was when we hosted the luncheon the first year at Hal and Mal's. I stopped moving and right in front of me were John Grisham, Greg Iles, and John Evans seated at a table, and Ellen Gilchrist had her arms around all of them. I realized how much talent was in the room. The breadth and depth of our own writers overwhelmed me. Fortunately, the photographer was right beside me and got the shot. That's a lot of literary love in one photo.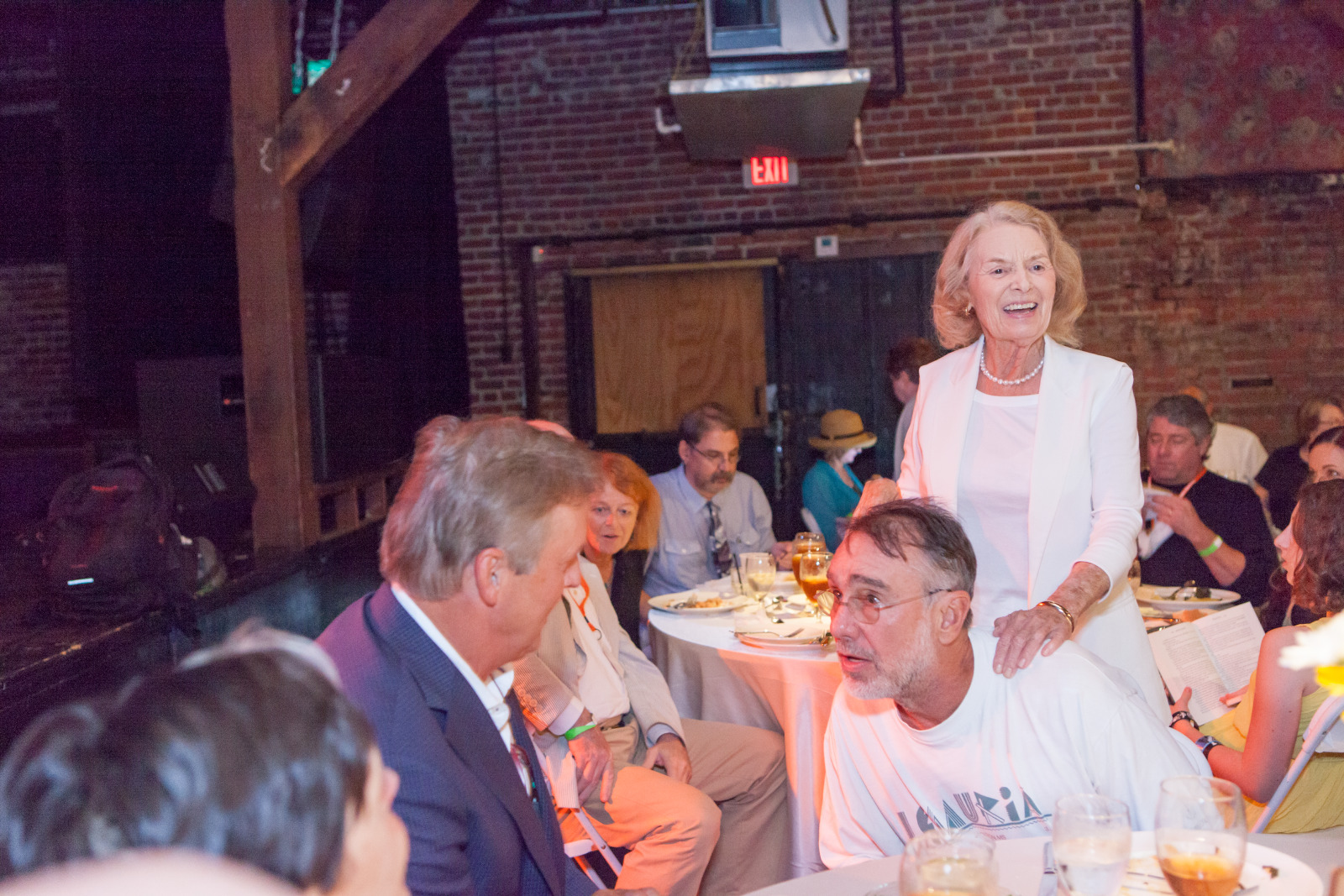 Besides the author panels, what else can people look forward to?
We have two great musical acts this year! Malaco Gospel singer Darrell Luster and also the fabulous stage band, No Strings, with some special guests, will perform. There will be many food trucks and lots of lawn seating. We have a Kids Corner with a special guest reader at 10:45 a.m. and free popsicles for all the kids there. The exhibitors and booksellers are going to put their best faces forward. It promises to be a full day, inside and out.
What about activities for children?
Kids and teenagers will be the center of attention in lots of ways this year! Our Kids Corner will have interactive exhibits from the Mississippi Children's Museum. Children's authors Candace Fleming and Caldecott medalist Eric Rohmann and First Lady Deborah Bryant will share their books. Discussion panels composed of over 20 authors will focus on early childhood literacy, illustration, and young and middle grade readers, and we will recognize the Magnolia Book Award Winners. There will also be a Family Storytelling Room inside the Capitol with acclaimed storytellers from across the state, and the Youth Media Project will feature teenagers using digital technology to produce multimedia projects and share their own stories.
How does the Book Festival support local authors?
We encourage participation from local authors in many ways. Some are official panelists, some serve as moderators, some are featured in Authors Alley, and others serve as volunteers.
Why should people come out to the Book Festival?
Books connect us in so many ways. It is always refreshing to me, personally, to discover a friend or neighbor who enjoys the same author or book I have read. It gives us something in common and bonds us. Imagine 7,500 people excited about the same thing and happy to be celebrating it? With the current political climate, the book festival is a welcome respite.
Why is it important to have events like the Book Festivalin Mississippi?
Mississippi falls to the bottom of many lists. We feel like we owe it to our community and our state to highlight and celebrate one of the things we do best. Say what you will about Mississippi, but no one can argue with the quality and quantity of writers we produce.
Any other Book Festival events that are happening this weekend?
There is so much excitement to share all weekend! Bookfriends of the University Press of Mississippi are kicking off the weekend with a Mississippi Bicentennial and Mississippi Encyclopedia party at Cathead Distillery . Fischer Galleries is hosting events both Thursday and Friday nights. The MississippiMuseum of Art is having themed events all weekend, including a movie night and a special menu by Nick Wallace. Saturday night is the Willie Morris After-party featuring Thacker Mountain Radio. We are very appreciative of all the public support for the festival.
What about merchandise?
Our official artist this year is the fabulous H.C. Porter. Her image, "L.C. Ulmer" appears on the commemorative poster, print, and t-shirt. Merchandise will be for sale in the center of the festival.
Anything else we need to know about this year's MS BookFestival?
It is FREE and open to the public. No tickets are required. There is lots of public parking in the Woolfolk Building downtown. Join us for another great Literary Lawn Party!
Check out msbookfestival.com for more info! We can't wait to see you there!