I am thrilled to introduce our newest First Editions Club on Lemuria's blog. This new club will focus specifically on compelling, eye-opening nonfiction. We will still look for collectible authors and debut books, but we will select  6 to 10 books each year rather than one book each month. As with our original First Editions Club, members of the new FEC for Nonfiction Readers will receive the highest quality, signed first editions covered in protective mylar jackets. I'm very excited to announce our inaugural selections, Ranger Games by Ben Blum (appearing Thursday, November 2) and Sticky Fingers by Joe Hagan (appearing Friday, November 3). Both authors will be at Lemuria later this week for events.
The original FEC, now called the First Editions Club for Fiction Readers, will continue with the same mix of novels, short story collections, and standout nonfiction with a strong narrative element such as Hue 1968.
Our first NONFICTION pick: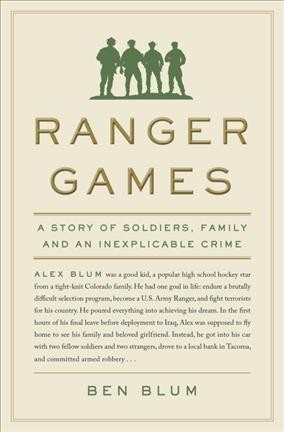 In Ranger Games, Ben Blum delivers a powerful and deeply personal story, oscillating between investigation and memoir, psychological profile, and cultural criticism. On August 7, 2006, Alex Blum, the author's cousin, participated in a bank robbery in Tacoma, Washington. Alex was on his final leave before his first deployment as an Army Ranger. He was 19. That "inexplicable crime" lies at the core of Ranger Games, an inscrutable question pulling the many tangents of Ben's investigation into orbit. Ben circles this black hole by delving into the infamous Ranger Indoctrination Program, Alex's problematic defense of brainwashing, his Ranger superior Luke Elliott Somner, and the affecting maneuvers of the rest of the Blum family.
This is a messy, convoluted, and achingly long search for Ben, tirelessly recounted in dynamic and moving writing.
It's a book that defies easy classification. Mary Gaitskill comments, "Ranger Games is one of those rare books that illuminates its subject beyond what you thought possible—and then transcends its subject to become something more."
I get the sense that Ben Blum is devoted to telling the whole story, to revealing the bigger, more profound and more complicated truth for Alex, for himself, and for us. I am very much looking forward to meeting the author of this tangled, swirling, and strong debut book.
Ben Blum will be at Lemuria on Thursday, November 2, at 5:00 p.m. to sign copies of Ranger Games. The reading will begin at 5:30 p.m.