So either you're just as excited as I am and are dancing around in pure joy at the idea of getting to meet Sarah, or you're wondering what all the fuss is about. Well, let me tell you why this is such a big deal.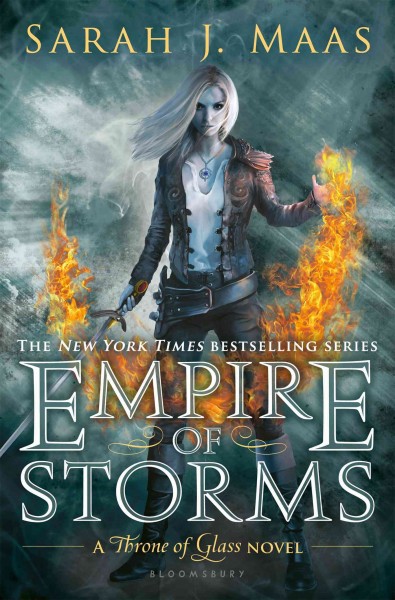 Sarah J. Maas is a New York Times and USA Todaybestselling author of two amazing young adult fantasy series. As part of her tour for Empire of Storms, the newest installment in the Throne of Glass series, Sarah will be coming to Jackson this fall!
Throne of Glass centers around 18-year-old Celaena Sardothien, a well-known assassin who has spent the last year imprisoned in the salt mines of Endovier after she was caught for her crimes. When the king holds a competition to pick his new assassin, Prince Dorian agrees to free Celaena if she will be his champion for the contest. Competing with a hoard of twenty-three sponsored thieves and warriors gives Celaena a chance to show off her skills and earns her the interest of the prince and his captain of the guard. But when champions start turning up dead, the competition is the least of her worries. If she wants to become the king's assassin and eventually earn her freedom, Celaena will have to not only survive, but win.
This is the series that got me into reading more fantasy. It starts off with a bang and gets more interesting with each book. It's no surprise Sarah has been called the "Queen of YA Fantasy" by her legion of fans. Her world-building is creative and her characters are fun. Celaena in particular is a strong, independent heroine with a lot of sass, but she is also down-to-earth with her complicated past and teenage tendencies. I'll admit I'm also a fan of the romance in these books. But if you think you know who's ending up with whom, read on, because Sarah loves to hit readers with the unexpected. Each installment in this series is fresh and even better than the next. I love getting to meet new characters and explore new places within the complex world that Sarah has created. Not only is it an action-packed series filled with fighting, magic, and romance, but it also deals with issues such as class, power, friendship, and loss.
If I haven't already convinced you to pick up these books, just do it! You won't be disappointed. And you've still got plenty of time to binge this series before the release of the fifth book: Empire of Storms. Sarah will be here just two days after the book is released, so you can meet your new favorite author and get her new book signed at the same time!
CLICK HERE TO PURCHASE A TICKET FOR THE EVENT (WHICH INCLUDES A PRE-ORDERED COPY OF EMPIRE OF STORMS): 
EVENT DETAILS:
When: Thursday, September 8 at 6 p.m.
Where: The Cedars—4145 Old Canton Road, Jackson, MS 39216
Things you need to know:
-Additional Sarah J. Maas books will be available for purchase at the event.
-The event will be outside on the back lawn. Bring lawn chairs and blankets. If it rains, the event will be inside.
-Line numbers will be given out when you exchange your ticket for a book.
-You must have a line number to enter the signing line—line will be capped at 250 people.
-You may bring a maximum of three (3) Sarah J. Maas books into the signing line to be signed (regardless of where they were purchased).
-Only one book may be personalized.
-Photography is allowed, but Sarah will not pose for photos.
-ABSOLUTELY NO VIDEO.
Questions? Call 601-366-7619