If you're a fan of dry wit and humorous situations, then guess what! I've got the perfect book for you. Vacationland by John Hodgman is the book you need to take with you when you go home for the holidays. You may not have heard of John Hodgman's name, but you're probably already familiar with him. Hodgman is an author, comedian, and actor who is arguably most famous for his Apple commercials where he portrayed the PC. Hodgman also has a big presence on Twitter, which I would recommend taking a gander at because he's hilarious while also being socially conscious.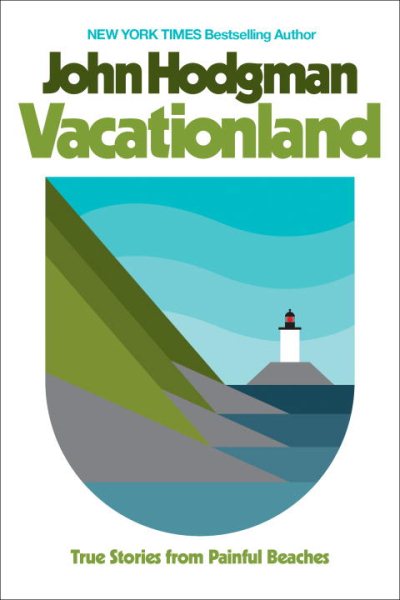 Vacationland is a collection of nonfiction essays and reflections about things that happened to Hodgman. I was hooked from the first paragraph when he says "Many people have asked me why I grew [my beard], and most of those people are my wife, and to them and to her I say: I don't know. I'm sorry." This almost self deprecating humor is a theme throughout his stories. In his first story, "Dump Jail," he describes the anxiety his father put upon him when he was told to lie to the men that work at the city dump about where he lived. He wonders what would happen if he was caught in the lie; is there a dump jail that he would have to go to? In "Mongering," he tells about the "loathsome affectations" he cultivated as a teenager such as playing the viola because it was less popular than the violin.
Some of the stories, while still funny, are more poignant than others. In "Daddy Pitchfork," Hodgman gets a little introspective towards the end of the story. He has just woken up after a night of drinking too much bourbon at a party thrown haphazardly in his honor and feels like he could find a new life waiting outside the door for him. The titular essay "Vacationland" made me tear up, but the story immediately following had me laughing deep belly laughs on the first page.
Here's where I tell you that I'm a bad bookseller because I don't really read short pieces. However! I couldn't resist picking up Vacationland, and I'm so glad I did! I love books that make me laugh out loud, then look up in embarrassment to see if anybody heard. That's exactly what John Hodgman made me do. Christmas is coming up and if you're like me, you'll want a distraction from the all of the family togetherness. This is the distraction you need! I'm terrible at ending blogs so if you still need convincing, come visit me at Lemuria, and I'll extol the virtues of Vacationland in person.