To be perfectly frank with you, I wasn't really planning on reading either Bo: A Quarterback's Journey Through an SEC Season by Billy Watkins or The Last Season: A Father, a Son, and a Lifetime of College Football. But one Saturday in September, I wore an Ole Miss shirt into work, thus betraying my football-watching proclivity in this wonderful land of book nerds. Anyway, John Evans saw it and then personally put both of these books in my hands, so I thought, "Well, I guess I have to read these next." And the thing is, I'm glad I did.
So I guess I'm addressing this blog post to anybody who might be intrigued, but not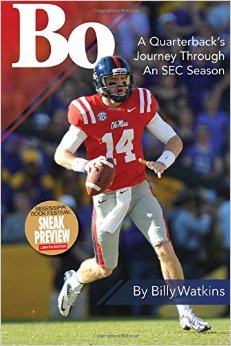 fully convinced, by the Ole Miss iconography on their respective covers. I think they're both worth your time, but they do work on different levels.
I was trying to explain to a co-worker, who is less versed in SEC football, why somebody wrote a book about Bo Wallace. My co-worker inquired: "Did he win a championship?" No. "Is he an off-field celebrity like Tim Tebow?" Not really. "Is he a big Mississippi high school legend?" He's from Tennessee.
In fact, his reputation was as a pretty good SEC quarterback with a penchant for throwing interceptions. If you've been watching Ole Miss football at all in the past few years, you've heard the announcers endlessly differentiate between "Good Bo" and "Bad Bo" (although, in my heart, he'll always be Dr. Bo.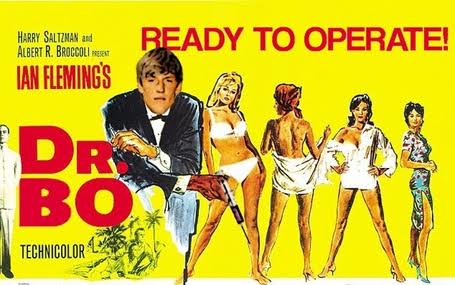 Anyway, the reason the book exists is because Billy Watkins thinks Bo is kind of a cool guy. And that reason is not a bad one, or wrong. Bo was tremendously gracious, good-natured, and full of school spirit when he came to Lemuria for the reading and signing. And that very much comes through in the book, as well as the eternally-referenced qualities of competitiveness and leadership. There's a nuts-and-bolts, behind-the-scenes quality to these football books that always draws me in. Which brings me to the other interesting thing about this book: it simultaneously manages to humanize the person behind the praise and criticism, while also managing to feel very typical of what an SEC player (especially at high-profile one) goes through.
Also, if I might speak frankly with you, my fellow Rebel fans, while I know last season didn't the end the way we wanted it to (i.e., with a big, gleaming crystal football hoisted high above Hugh Freeze's head) it was still a pretty good season, and this book will make a nice time capsule for a sometimes-special season when the times get lean, as they are wont to do in the competitive SEC West.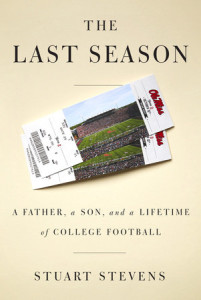 In fact, we all know that rooting for Ole Miss often perfectly embodies what Stuart Stevens calls "the essence of sport": "disappointment masked by periodic bursts of joy and nurtured by denial." Stevens, in The Last Season, chronicles the 2013 Ole Miss football season as he retreats from his career for a while to enjoy a season of games with his parents, especially his 95 year-old father who took him to games as a kid.
I was surprised by this book. I was expecting something corny and simplistic, like other examples from the genre of "inspirational" literature. But what I found instead was a writer embracing his world, his family, and himself with a surprising degree of complexity. I mean, a simple Zen-like momento mori truth does echo throughout the book: draw close to and spend time with those who are important to you while you can. But, despite what the title would have you believe (I suspect marketing shenanigans at the publisher), there's no maudlin tragedy fueling the narrative. If you'd call this book inspirational, I'd call it the best kind.
Also, critically, Stevens can flat-out write. He's an astute observer, not a half-bad philosopher (with some help from his dad on that front), and fine spinner of phrases. I especially enjoyed his remembrances of growing up in the Belhaven neighborhood, and I laughed out loud in reading some of his pitch-perfect encapsulations of sports fandom. I mean, who among us hasn't been here: "Dying may feel worse than losing a game like this, but at least with dying there's the comfort of knowing it's unlikely to happen again."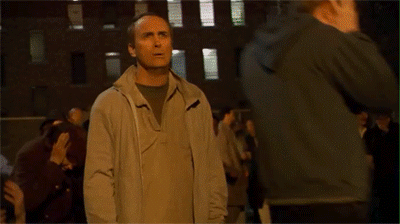 Fundamentally, what I enjoyed most was his subversion of expectations in what a football book should be. In one of my favorite passages, Stevens explains, "Many people loved to point to the game as a metaphor for life, spinning out the lessons learned on the field to the landscape of life. There was surely truth in that, but it had never interested much….It was good because it was good, and that was enough." Which is why I think The Last Season can also speak to non-Rebel fans, and even non-football fans.
Ultimately, however, in addition to whatever else value they fulfill, both Bo and The Last Season do what they promise on their covers: help pleasantly pass the time until next Saturday or next season, whichever comes first.