David Grann, author of The Lost City of Z (a gripping tale of Amazonian adventure), has produced his first book with a sustained narrative in nine years: Killers of the Flower Moon: The Osage Murders and the Birth of the FBI.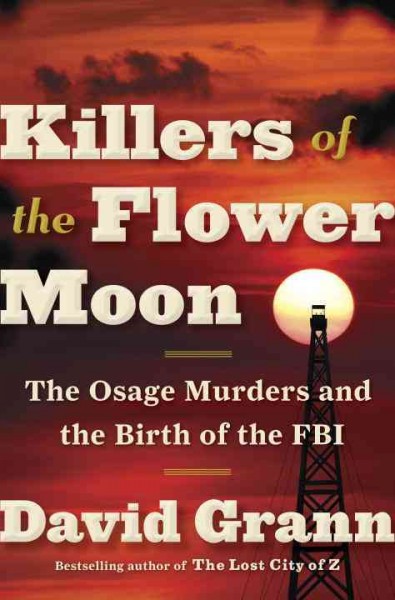 The Osage tribe in the late 1800s, like many other native peoples of the Americas, had been confined to smaller and smaller territories as white settlers hungered for their land. After seeing the "Sooner" land rushes of native territory elsewhere in Oklahoma, they agreed to divide up their land among their members, while reserving the mineral rights to all the people of the tribe. When their territory became one of the most sought-after oil-producing areas in the nation, it brought fabulous wealth to the Osage people. What a wonderful blessing, right?
Unfortunately, it also brought all manner of opportunists and criminals, of both high and low status–from the federal government placing onerous "guardian" restrictions on the finances of full-blooded Indians, to something more violent and even more sinister.
Here Grann focuses on the story of Mollie Burkhart, an Osage woman married to a handsome, quiet, loving white man named Ernest. Under the shadow of Mollie's good fortune came terrible tragedy: her family members kept dying, either violently (her sister shot, her in-laws' house exploded) or suspiciously (another sister and her mother both wasted away). When she and other members of the Osage (who experienced similar tragedy) turn to detectives, lawmen, and even the federal government for help, they are foiled–sometimes quietly, other times violently–at every turn.
Enter Tom White, former Texas Ranger, FBI agent, and all-around white hat. He was no college-educated, suit-wearing G-man of the early FBI as we think of them, but he was tabbed personally by J. Edgar Hoover to lead the Osage case after an "embarrassing" mishap that ended with a dead policeman to start the case. White smartly used undercover agents and his powers of deductions to discover that the people who posed the greatest danger to Mollie were some of the people she trusted most.
One of the things I admire most about Grann's book is its smart use of structure to redirect your attention. It uses our need to sympathize with characters we feel we know personally to narrow our focus, much like the public, and even law enforcement, had their attention narrowed in the Burkhart case. If this were a movie, it would end after the second section. However, Grann proceeds with a third section that might be less dramatic than the first two, but is infinitely more chilling. It roused my blood and opened my eyes, and left me thinking for a very long time about all the souls accountable for the outrage against the Osage.
David Grann will be appearing at Lemuria on Thursday, May 4 to promote Killers of the Flower Moon, Lemuria's May 2017 First Editions Club selection . He will sign at5:00 and read 5:30 in the Dot Com annex.